Germany vs Brazil, England vs Italy, Spain vs Argentina & live coverage of international friendlies
Last Updated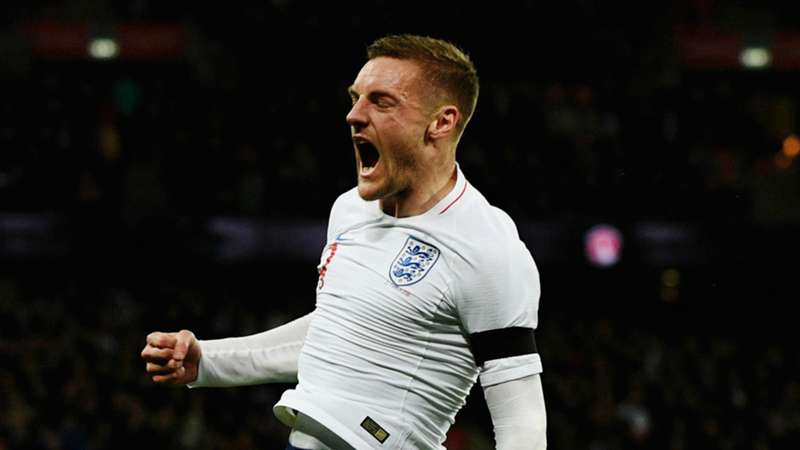 Getty Images
---
22:30 - International recap! ♻️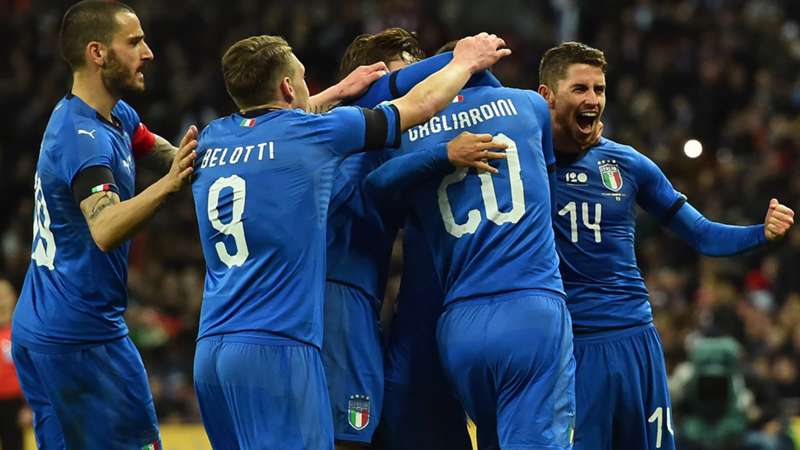 And that concludes this evening's games!
The performance of the night came from Isco and his Spain team-mates, who embarrassed a Lionel Messi-less Argentina 6-1 in Madrid.
England were held by Italy at Wembley, while Brazil made it two wins in four days with a 1-0 victory over Germany.
Elsewhere Switzerland beat Panama 6-0, Montenegro and Turkey played out a 2-2 draw, Ivory Coast beat Moldova 2-1, Denmark vs Chile ended goalless, Greece beat Egypt 1-0, and Scotland were 1-0 winners against Hungary.
Romania beat Sweden 1-0, Belgium picked up a 4-0 win against Saudi Arabia, Poland snatched a later win against South Korea, and Nigeria lost 2-0 to Serbia.
Be sure to check out the full reaction to this evening's games, as well as news, views and transfer gossip throughout the night!
---
22:25 - FULL TIME!
Spain continue their preparations for the World Cup with a hammering of Argentina this evening.
Isco led the way with a brilliant hat-trick, while Diego Costa, Thiago Alcantara and Iago Aspas also got on the scoresheet.
Nicolas Otamendi scored in the first half to give Jorge Sampaoli's men hope of salvaging a positive result, but they capitulated in the second period, conceding four goals.
They have plenty work ahead of them to refine their issues ahead of the tournament.
Spain 6-1 Argentina
---
22:20 - Injury time ⏲️
We're heading into extra time here in Madrid.
The Argentina players will be hoping the whistle comes sooner rather than later!
Spain 6-1 Argentina
---
22:15 - MIX UP 😖
Ramos makes an error at the back and Perez attempts to pick out Martinez in the middle, but the Spain skipper atones for his error to block the pass.
---
22:06 - GOAL!!! ⚽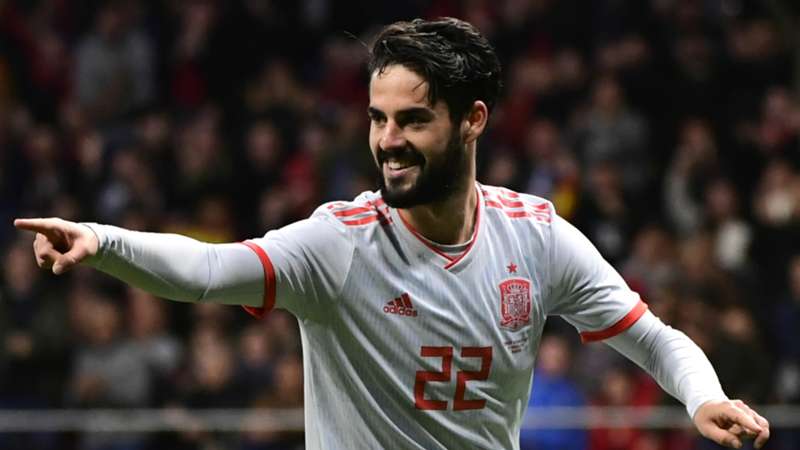 No Messi, HUGE problem...
Isco continues his clinical outing with another fine strike and he will take home the match ball, securing his hat-trick.
A mistake by Otamendi allowed Aspas to break forward and he cut the ball back for Isco, who controlled with one touch before firing his second into the bottom corner.
Spain 6-1 Argentina
---
22:05 - GOAL!!! ⚽
Argentina are all over the place at the back as Aspas bundles an effort past the on-rushing Caballero into the net.
The visitors were opened up by a simple long ball forward from De Gea. Otamendi and Rojo were miles apart and Aspas had the simple job of sliding his effort past Caballero.
Spain 5-1 Argentina
---
22:00 FULL TIME IN LONDON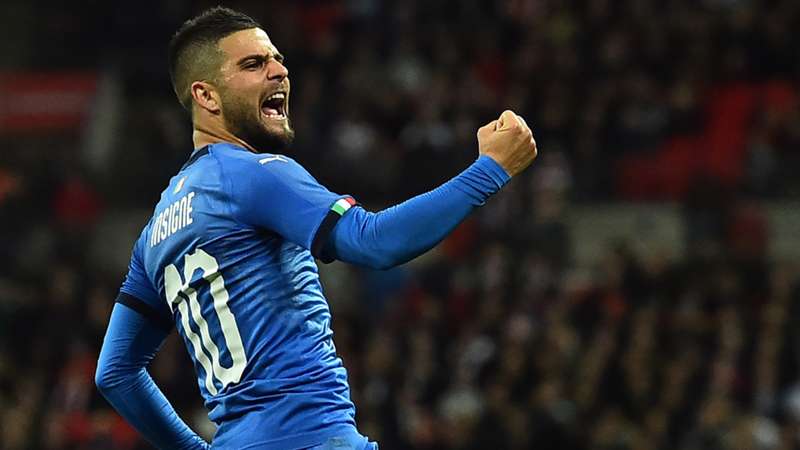 England draw three home games for the first time in their history.
A shaky start by Stones did not put the hosts off as they grew into the game and went ahead through Vardy, who took advantage of Lingard's quick thinking from a free-kick.
However, a late penalty awarded to Italy after VAR was used allowed Insigne to level the scores, thumping emphatically past Butland from 12 yards. Plenty for Southgate to consider before the final squad is selected for the World Cup!
England 1-1 Italy
---
21:57 - OFFSIDE GOAL 🚩
Argentina clear a free-kick from Asensio, but Spain keep the pressure on. Asensio lifts a second cross into the box, but Ramos fouls Rojo before he finishes with a low volley into the net.
He didn't look overly pleased with the decision, but it was ruled offside.
---
21:55 - Poland snatch it late!
Having gone into the break 2-0 up, Poland conceded two late goals against South Korea and looked as though they'd thrown their efforts away at the dead!
However, a stoppage-time Zielinsk strike ensured they won the game.
A mad end to an entertaining tie.
Poland 3-2 Korea
---
21:53 - STAT TIME ⏰
Lorenzo Insigne's penalty was the first goal England have conceded in 10 hours and 24 minutes of football (624 minutes).
---
21:48 - GOAL!!! ⚽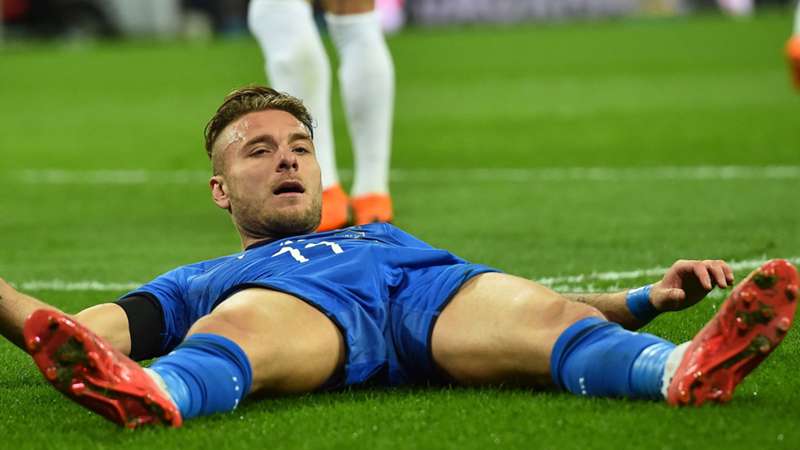 Lorenzo Insigne scores from the spot, emphatically powering it into the bottom-left corner. Butland guessed the right way, but couldn't reach it. Great penalty.
England 1-1 Italy
---
21:46 - GOAL!!! ⚽
And again!
Spain score their fourth, displaying a cutting edge in front of goal as Thiago blasts a low strike into the net.
Asensio releases Isco down the right flank and he cuts the ball back for Aspas. The forward loses possession, although it falls kindly for Thiago, who strikes his effort first time past Caballero.
Spain 4-1 Argentina
---
21:45 - GOAL!!! ⚽
Isco again!
The Real Madrid man restores Spain's two goal advantage with a crisp low finish to beat Caballero.
Iniesta opens up the Argentina defence with a simple ball over the top for Aspas. The forward takes it wide after Caballero forces him out. He checks backs and finds Isco, who responds with a fine strike to find the net.
Spain 3-1 Argentina
---
21:43 - FULL TIME IN BERLIN
It was a complete showing from Brazil, who looked more than primed to make a real run at World Cup glory this summer. The loss won't mean a whole lot for Germany, who were without a few of their first-team regulars, but their title defence will certainly be put to the test come June.
Germany's 23 match unbeaten run comes to an abrupt end as they lose for the first time since July 2016, with Gabriel Jesus' goal providing Brazil sweet revenge for the 7-1 drubbing in the 2014 World Cup semi-final.
Germany 0-1 Brazil
---
21:33 - Cook makes his England debut
Lewis Cook has replaced Jesse Lingard for England to make his full international debut.
It's a double celebration for Cook's grandad, who lands £17,000 after betting his grandson would play for the Three Lions 💰
---
21:32 - Belgium hit four ⚽⚽⚽⚽
Kevin De Bruyne and Michy Batshuayi join the party!
The Red Devils lead 4-0 against Saudi Arabia.
---
21:30 - Chance for England 🦁
A lovely move between Lallana, Lingard and Sterling in and around the box sees the latter with a shooting opportunity, but he lifts the ball high over the bar.
Poor execution from the Manchester City winger, and not for the first time!
---
21:23 - Half time in Madrid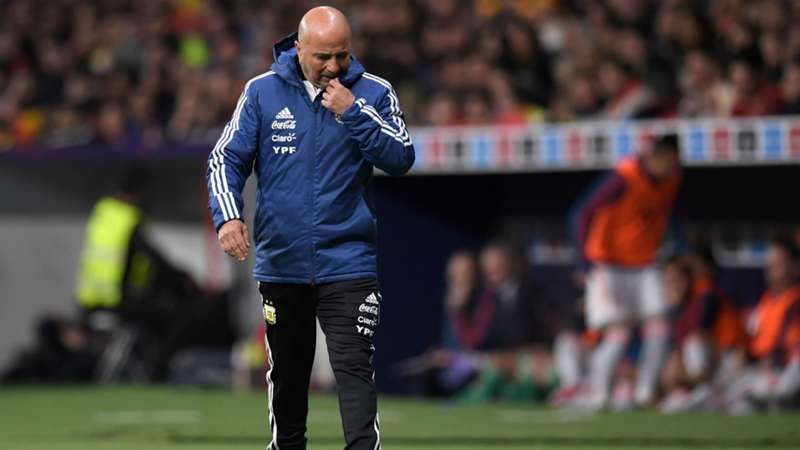 Spain take a 2-1 lead into the break against Argentina in an entertaining contest at the Wanda Metropolitano.
Diego Costa put La Roja ahead in the 12th minute after Gonzalo Higuain missed a sitter for the visitors. Isco compounded Argentina's woes by adding a second from close range.
However, Jorge Sampaoli's men got back into the match before the interval when Nicolas Otamendi nodded an effort past David de Gea. The game remains in the balance heading into the second period.
Spain 2-1 Argentina
---
21:20 - Chance for England
Dier bursts through the midfield and plays it wide to Sterling, who comes inside and feeds Oxlade-Chamberlain.
He is forced onto his left foot, and can only strike a firm shot straight at Donnarumma!
England 1-0 Italy
---
21:19 - Chance for Germany
Great tracking from Kimmich and a very important header as he clears the ball behind to deny Coutinho from getting on the end of an inviting cross.
The ensuing corner comes go Jesus at the far post, and the goal is gaping with Trapp whiffing at a clearance, but he heads wide!
Germany 0-1 Brazil
---
21:12 - GOAL!!! ⚽
OTAMENDI GETS A GOAL BACK!
Argentina are back in the game as the Manchester City defender rises highest in the box to head home.
Banega's delivery from a corner on the left was pinpoint and Otamendi was able to get up and direct his header towards the bottom corner. De Gea got down, but the ball travelled through his hands and into the net.
Spain 2-1 Argentina
---
21:11 - Brazil controlling the game 💪
Brazil are very much on top here as they get forward threateningly with every spell in possession.
They're really taking the game to Germany, who have created absolutely nothing in this second half and are very much in danger of falling 2-0 down here if they aren't careful.
---
21:06 - Brazil to break the streak?
Germany are unbeaten in their last 22 matches dating back to a 2-0 defeat to France at Euro 2016 (W16, D6).
A lovely dummy from Jesus sees the ball run through to Willian, but his effort is blocked brilliantly by Rudiger. The rebound comes to Paulinho, but Trapp makes an excellent save to parry!
Still 1-0 to Tite's side.
---
21:00 - GOAL!!! ⚽
ISCO FIRES HOME!
The Real Madrid man doubles Spain's lead, sliding the ball into the net from close range.
Argentina lost possession too easily and were punished by La Roja as Asensio squared the ball for Isco to slot his effort past Caballero with ease. Spain have been clinical this evening.
Spain 2-0 Argentina
---
20:52 - HALF TIME AT WEMBLEY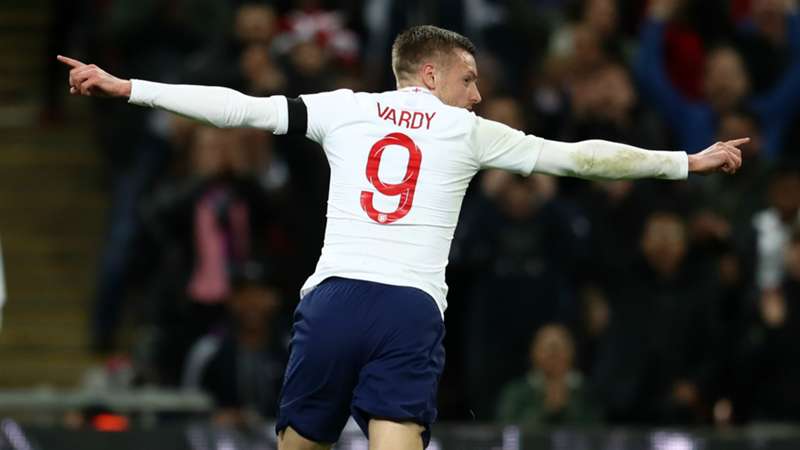 England lead at the break despite a shaky start to the game which saw Stones make two mistakes that allowed Immobile golden chances to score inside the first three minutes.
The Lazio striker was wasteful though, spurning both opportunities and another later on. He, and Italy, were made to pay for that wastefulness as Vardy capitalised on quick thinking from Lingard to take a quick free-kick, smashing the ball in to put England 1-0 up!
The goal was reviewed by VAR, but allowed to stand. It's 1-0 to the hosts at Wembley, but this game is far from over as the Italians pose a much sterner test than the Dutch did in Amsterdam.
---
20:46 - GOAL!!! ⚽
DIEGO COSTA PUTS SPAIN AHEAD!
Pressure on the ball yields an opening for La Roja as Iniesta wins possession before Asensio releases Costa.
He goes in for a 50/50 with Romero and wins the day as the ball deflects back off his shin and flies into the back of the net. Both players are in a heap on the floor, but at least Costa has the breakthrough.
Spain 1-0 Argentina
---
20:40 - Chance for England 🦁
Italy block twice from Tarkowski following a corner, before Sterling gets in behind 30 seconds later and trying to pull it back to Lingard, winning another corner in the process.
---
20:36 - STAT TIME ⏰
Germany are winless in their last three matches (D3). The last time they went four in a row without victory was back in June 2004.
It's half time in Berlin! Germany 0-1 Brazil
---
20:30 - GOAL!!! ⚽
Sterling is fouled a couple of times before eventually going down, but Lingard takes the free-kick quickly to release Jamie Vardy , and he smashes the ball into the top-right corner from inside the box to put England 1-0 up!
England 1-0 Italy
---
20:30 - GOAL!!! ⚽
BRAZIL BREAK THE DEADLOCK!
It's come against the run of play, but it won't matter to them in the slightest! Gabriel Jesus gets on the end of a cross and heads straight at Trapp, but the keeper makes a meal of it and fails to keep it out!
Germany 0-1 Brazil
---
20:30 - Spain vs Argentina KICK OFF
HERE WE GO!
The players are out on the pitch, so we should be underway shortly.
Spain: David de Gea; Daniel Carvajal, Gerard Pique, Sergio Ramos; Jordi Alba; Thiago Alcantara, Koke, Andres Iniesta; Marco Asensio, Diego Costa, Isco.
Argentina: Sergio Romero; Fabricio Bustos, Nicolas Otamendi, Marcos Rojo, Nicolas Tagliafico; Javier Mascherano, Lucas Biglia; Maximiliano Meza, Ever Banega, Giovani Lo Celso; Gonzalo Higuain.
---
20:26 - GOAL!!! ⚽
Romelu Lukaku again!
The first assist was from Kevin De Bruyne, the second from Eden Hazard.
Belgium 2-0 Saudi Arabia
---
20:25 - MISS from Italy
Immobile could have already had himself a hat-trick!
A great ball comes in from the right and Immoblie rises highest in the box, but he can only head over the bar! The leading scorer in Serie A hasn't translated his club form to international level today.
---
20:18 - SAMBA SAMBA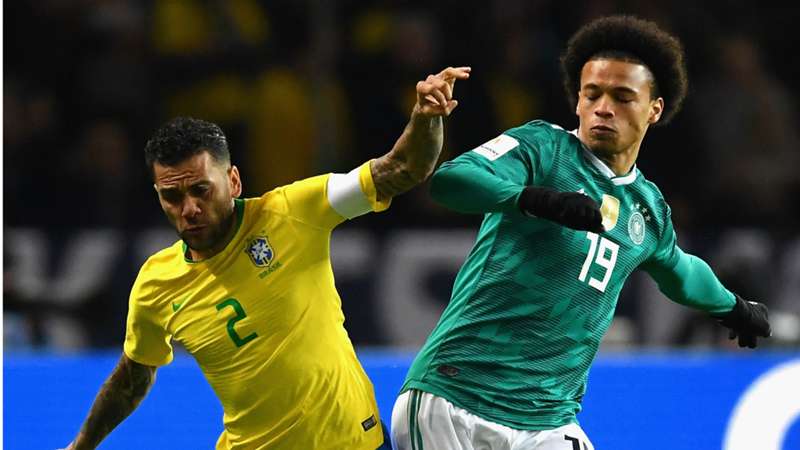 Lovely bit of skill from Coutinho!
The Barcelona man shows some nice trickery to dribble his way through on the left before picking out Jesus.
The striker tries to complete a give-and-go, but gets his return pass all wrong as the chance comes to nothing.
---
20:12 - STAT TIME ⏰
The 7-1 loss against Germany in Belo Horizonte at the 2014 World Cup ended Brazil's 39-year and 63-game unbeaten run on home soil in all competitions.
---
20:08 - CHANCE!
England's John Stones tries to dribble out from the back and gets the ball caught under his feet, allowing Immoblie to pinch it and shoot, but Stones does enough to put the striker off as he blazes over while off-balance.
Poor start from the Manchester City defender, but poor too from Immobile, who should be capitalising on these mistakes.
England 0-0 Italy
---
20:05 - GOAL!!! ⚽
Romelu Lukaku opens the scoring for Belgium against Saudi Arabia.
The Manchester United forward strikes a left footed shot from outside the box into the bottom left corner.
Belgium 1-0 Saudi Arabia
---
20:04 - CHANCE!
Germany's Kroos whips in a delicious free-kick from the right which Boateng flicks on for Gomez, but the striker arrives to meet it at the same time as Alisson, who manages to make the save and hold on despite the contact!
Almost an opener!
---
20:00 - Off we go in London
Italy haven't visited Wembley to face England since February 1997 in a 1998 World Cup qualifier - they won 1-0 with a goal from Gianfranco Zola.
In fact, the Italians have beaten England more often at Wembley (twice) than England have beaten them (once).
What will the score be tonight?
---
19:55 - Jab, jab, jab 🥊🥊
Germany and Brazil are simply feeling each other out at the start here, exchanging possession while in no rush to advance the ball into attack.
It's a bit of a subdued atmosphere as well, surprisingly, on a nice night in Berlin.
---
19:50 - From bad to worse
Panama have lost their friendly tie with Switzerland this evening by a scoreline of 6-0...
England should have no problem beating them in the World Cup, then, should they? 😉
---
19:45 - HERE WE GO
Let us know your thoughts as Germany and Brazil lock horns in Berlin.
We've got a huge amount of games currently playing and more to come later this evening, so stay tuned!
---
19:35 - 10 minutes to go! ⏲️
We've got the following games kicking off at 19:45...
And the big one, Germany vs Brazil !
---
19:25 - World Cup revenge!
Neither Spain or Brazil have lost a competitive match since summer 2016, and while this clash doesn't quite fall under the category of a competitive match, it sure will be contested as one.
The last time these two countries met, Germany humiliated Brazil 7-1 on home soil during the 2014 World Cup.
Time for revenge? 🤔
---
19:21 - Scotland fighting for a breakthrough 👊
Scotland have struggled to break down Hungary in the opening 20 minutes but are increasingly aggressive in attacking their opponents.
Will they bounce back from their 1-0 defeat against Costa Rica last week?
Scotland XI (5-4-1): Allan McGregor; Jack Hendry, Charlie Mulgew, Scott McKenna, Ryan Fraser, Andrew Robertson; Stuart Armstrong, John McGinn, Callum McGregor, James Forrest; Matt Phillips.
---
19:12 - Pogba sends warning to Mourinho 🎙️
Paul Pogba has offered a timely reminder to Manchester United of his worth by recording a career first with France!
---
19:03 - Messi wants the World Cup!
Don't we all?
Lionel Messi wants to win the World Cup with Argentina "more than anyone", according to team-mate Nicolas Otamendi!
Will he get his hands on it this time round?
---
18:55 - And how do Italy line up against England?
Gareth Southgate's men have won a staggering 41 of their 58 matches at Wembley since it was rebuilt in 2007 and will be looking to beat this Italy XI this evening to improve those numbers!
Donnarumma; Zappacosta, Rugani, Bonucci, De Sciglio; Pellegrini, Jorginho, Parolo; Candreva, Immobile, Insigne.
🇮🇹
---
18:50 - 🇩🇪 Germany vs Brazil 🇧🇷 team news
Manchester City forwards Leroy Sane and Gabriel Jesus line up against each other here, with both sides naming strong XIs.
Germany XI: Trapp; Kimmich, Rüdiger, Boateng, Plattenhardt; Kroos, Gundogan; Draxler, Goretzka, Sane; Gomez.
Brazil XI: Alisson; Alves, Silva, Miranda, Marcelo; Paulinho, Casemiro, Fernandinho; Willian, G. Jesus, Coutinho
---
18:47 - England team news is in!
Dele Alli is benched for England as James Tarkowski makes his debut!
How does this starting XI look?
Butland, Trippier, Stones, Tarkowski, Walker, Young, Dier, Oxlade-Chamberlain, Lingard, Sterling, Vardy
🦁🦁🦁
---
18:45 - Panama nightmare! 😨
England's World Cup group opponents Panama are currently 4-0 down in Switzerland after just 39 minutes!
Music to the ears of Harry Kane and the Three Lions attack ahead of the summer!
---
18:42 - FULL TIME IN RUSSIA
France run out 3-1 winners against Russia, with Kylian Mbappe (2) and Paul Pogba scoring the goals.
For Russia it's back to the drawing board as the 2018 World Cup hosts appear to have plenty of work to do to avoid disaster this summer.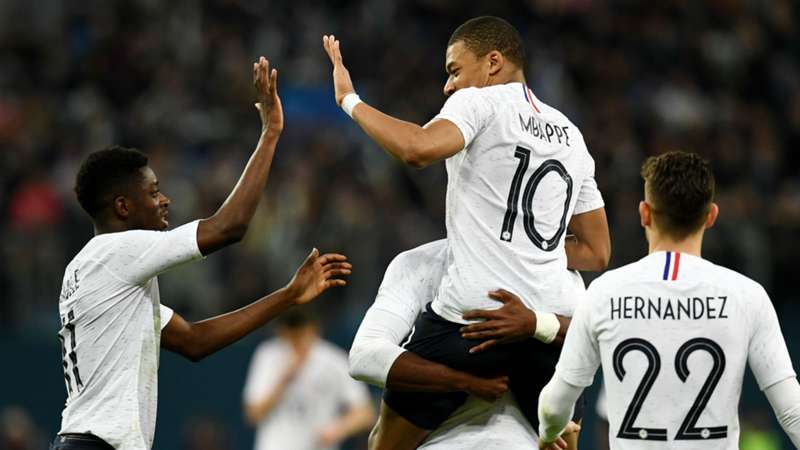 ---
18:33 - GOAL!!! ⚽
A second for Mbappe , who outdoes himself this time with a terrific bit of skill in the area to open up space for a shot, which he guides through the legs of Lunev!
Mbappe becomes the youngest player to score a brace with the French national team in the post-war period (19 years & 3 months) 👍
Russia 1-3 France
---
18:32 - Debut for Kimpembe
PSG defender Presnel Kimpembe is brought on for the final 10 minutes as he makes his debut for the national team, replacing Umtiti ♻️
---
18:28 - Dybala to the World Cup?
Paulo Dybala was among the surprise omissions from the Argentina squad for friendlies against Italy and Spain but has been backed to make the squad by Hernan Crespo.
"He is a great player, he is strong, he is a truly important player," the former Argentina international striker said.
Will Dybala make the squad? Does he deserve a place on the plane?
See here for the full set of quotes...
---
18:18 - GOAL!!! ⚽
Russia are back in it!
What an absolutely sensational assist that was - Smolnikov threads a diagonal ball through three France defenders all the way into the path of Smolov at the far post, and the striker does well to keep his composure and finish it off!
Game on! 💪
Russia 1-2 France
---
18:13 - 30 minutes to go!
Into the final 30 minutes and it's about time for Russia to start showing some urgency.
They failed to find the back of the net against Brazil on Friday and another goalless night in front of their supporters would have to be considered a big disappointment.
Oh, and Antoine Griezmann has replaced Anthony Martial for France!
---
18:11 - Paul PogBACK
Paul Pogba has scored a goal & delivered an assist in the same game for the very first time with the French national team.
Jose Mourinho will be happy for the Man Utd midfielder...
---
18:09 - MISS
A Russia corner comes to Smolov at the far post and he lashes a strike at goal which Lloris manages to save, but the keeper sends the rebound straight to Granat.
The centre-half has the goal at his mercy but fires wide from seven yards!
---
18:05 - STAT TIME ⏰
There have been 10 goals scored in the second half of the last four meetings between these two sides (16 total).
---
18:00 - GOAL!!! ⚽
Paul Pogba is on the scoresheet!
The midfielder lines up a free-kick from over 25 yards and bends a stunning effort in at the near post!
It's a long way back for Russia now. The 2018 World Cup hosts are slumping towards another defeat...
Russia 0-2 France
---
17:50 - Will Messi play for Argentina?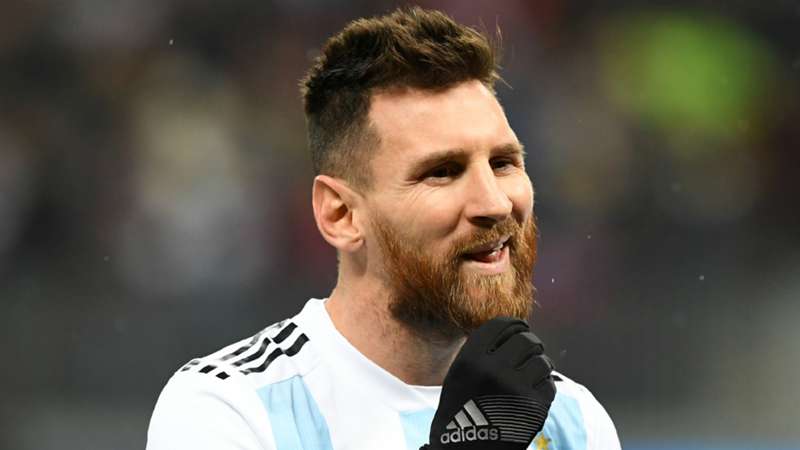 It's bad news, I'm afraid!
Lionel Messi will play no part in Argentina's meeting with Spain this evening.
Find out here why he could have been lining up for the other side if things had played out differently way back when.
---
17:40 - HALF TIME
It took 40 largely forgettable minutes, but the game got the goal is desperately needed through Kylian Mbappe, who sends France leading into the break in Saint Petersburg.
Russia have posed little threat outside of a chance for Fedor Smolov, but the same can be said about both sides.
It should open up after the interval 🤞
---
17:35 - GOAL!!! ⚽
Kylian Mbappe doesn't miss this time!
The striker gets on the end of a delicious throughball from Pogba, stops his run, cuts inside of Neustadter and beats Lunev at his near post!
Russia 0-1 France 🇫🇷
---
17:32 - Penalty shout 🔊
Martial is slipped through and after a heavy touch he goes down rather hopefully following the slightest bit of contact from Kudryashov, but the referee was having none of that.
We're getting closer to a goal here!
---
17:25 - Mbappe miss!
Martial gets on the end of a ball over the top and unloads a first-time strike.
It takes a deflection and falls generously into the path of an unmarked Mbappe in the centre, but he shoots straight at Lunev from 10 yards!
😐
---
17:17 - STAT TIME ⏰
Russia have not kept a clean sheet in any of their last seven international matches, dating back to a 2-0 win over New Zealand in June 2017.
---
17:12 - SAVE! 👐
It's the first chance of the night and it falls to Russia!
A wonderfully worked move sees Dzagoev tee up Smolov for a shot from 10 yards, but his first-time effort is excellently parried by Lloris, who dives down to his left in a flash to keep it out!
---
17:05 - Throwback! ↩️
France won their most recent trip to Russia 3-2 in October 1998, a qualifying match for Euro 2000.
Alain Boghossian scored late to break a 2-2 draw in Moscow to secure Les Bleus all three points.
---
16:58 - A bright start from Russia
Russia have started well here, and France carelessly.
The hosts have enjoyed some decent possession, and get into a prominent attacking position thanks to a giveaway at the back from the visitors, though they are unable to pick out a good final ball as the chance amounts to nothing.
😎
---
16:50 - KICK OFF
Didier Deschamps makes seven changes from Friday's defeat to Colombia.
Let's see how his France team handle Russia this afternoon!
---
16:40 - 10 minutes to go!
We're now under 10 minutes away from Russia kicking off against France!
Let us know who you think will win...
---
16:35 - Is Pep England's secret weapon?
World Cup winners in 2010 - Spain (Guardiola in charge of Barcelona)
World Cup winners in 2014 - Germany (Guardiola in charge of Bayern)
World Cup winners in 2018 - England? 🤔
Success seems to follow the Manchester City manager, but will the Three Lions be the beneficiaries of the Catalan coaching some of the country's biggest players?
---
16:27 - Time running out for Russia!
Russia's preparation for the World Cup got off to an abysmal start on Friday as they were hammered 3-0 by Brazil – a sign that there's lots of work to be done for the hosts to avoid an early exit in June.
Up next for Stanislav Cherchesov's men is a date with another World Cup favourite in France, and they desperately need to put in a better showing to inspire a bit of confidence ahead of their final preparations against Austria and Turkey in May and June.
But will they be able to stop Kylian Mbappe and Co. tonight?
---
16:20 - France team news
Let's start with the team news for Russia vs France!
🇷🇺 Russia XI: Lunev; Kudrjasov, Neustadter, Granat, Zhirkov; Samedov, Golovin, Erokhin, Dzagoev; Miranchuk, Smolov
🇫🇷 France XI: Lloris; Pavard, Koscielny, Umtiti, Hernandez; Pogba, Kanté, Rabiot; Dembélé, Mbappé, Martial
That French attack, though 🔥
---
16:10 - Tonight's line up 👀
So, which games do we have on the cards this evening?
16:50 Russia vs France
19:00 Denmark vs Chile
19:00 Egypt vs Greece
19:00 Hungary vs Scotland
19:45 Germany vs Brazil
20:00 England vs Italy
20:00 Nigeria vs Serbia
20:30 Spain vs Argentina
And that's just a selected few!
---
16:00 - 🎉 It's international week! 🎉
Hello and welcome to Goal's live coverage of today's international friendlies. Some of the world's best teams are in action as they continue their preparations for the 2018 World Cup.
We will be bringing you all the build-up, team news and updates as they happen across the day, so sit tight!
---