UEFA Champions League
Ronaldo 41-16 Messi: Cristiano's unbelievable Champions League knockout record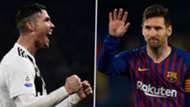 Real Madrid legend Guti recently admitted that if he had to choose between Lionel Messi and Cristiano Ronaldo, he would pick the Argentine.
However, the Spaniard was at pains to point out that while "Messi has more talent, Cristiano is more of a goalscorer and has more ambition."
Nowhere is that better illustrated than in the knockout stages of the Champions League.
Ronaldo boasts an insatiable thirst for goals. His ambition to break every imaginable goalscoring record in Europe's premier cup competition is clearly one of his main motivations.
That drive is what separates him from all of the rest – even Messi – when it comes to finding the back of the net.
And that drive was in evidence as the 34-year-old Ronaldo surged past both of Ajax's central midfielders and into the space between the two side's central defenders to head Juventus into a 1-0 lead in Amsterdam.
It was his 125th Champions League goal. Even more impressively, it was his 64th in the knockout stage, meaning more than half of Ronaldo's goals have come in at the business end of the competition.
What's truly staggering, though, is that thanks to his goal against Ajax he now has 41 goals from the quarter-finals on.
That's just one less than Messi has altogether in the knockout stage (42).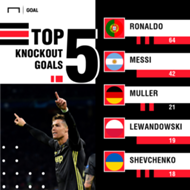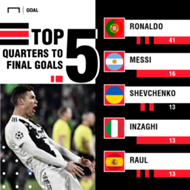 Indeed, the Barcelona captain 'only' has 16 goals between the last eight and final – which still ranks him second overall, just ahead of Raul, Pippo Inzaghi and Andriy Shevchenko, all of whom started playing Champions League football before the last 16 was introduced for the 2003-04 campaign.
Messi has more last-16 goals than Ronaldo – 26-23, and in two fewer games – but even he cannot compete with the Portuguese thereafter.
The Argentine has a very respectable 10 goals in 21 quarter-final outings but Ronaldo has struck a staggering 24 times in as many matches.
Ronaldo has also racked up 21 appearances in the semis, netting 13 goals – nine more than Messi, who sits joint-fourth, behind Robert Lewandowski (six), and Jari Litmanen and Alessandro Del Piero (both five).
Ronaldo also leads the way in final goals, with four in six, just one ahead of his former Real Madrid team-mate Gareth Bale.
Messi, for his part, has two – as many as current Blancos captain Sergio Ramos, among a host of other players.
So, while Guti may well be right that Messi is the greatest player the game has ever seen, when it comes to scoring goals in the knockout stage of the Champions League, Ronaldo is the undisputed No.1.