Arsenal
Rodgers to replace Wenger at Arsenal? Redknapp says ex-Liverpool boss 'ticks every box'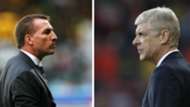 Celtic manager Brendan Rodgers "ticks every box" and could be the ideal candidate to replace Arsene Wenger at Arsenal, says Jamie Redknapp.
The Northern Irishman saw his reputation take a hit in October 2015 when he was ushered through the exits at Liverpool.
Arsenal & Tottenham 7/2 both to win
Rodgers had previously carried the Reds close to the Premier League title and Celtic have been rewarded with a remarkable period of domestic dominance since appointing him in May 2016.
With his profile rising once more, Redknapp believes that the 44-year-old should be among those being considered for leading Premier League posts whenever they become available.
The former Liverpool midfielder told the BBC: "Without a shadow of a doubt, he ticks every box.
"At Liverpool, he was harshly done-by, but these things happen and, once you start to get a few bad results, the crowd maybe start to go against you.
"That's football, but it doesn't make Brendan Rodgers a bad manager. He's turned it around and shown everybody how good he is.
"I don't know what Brendan Rodgers thinks and he's managing one of the best clubs in the world.
"I don't necessarily think he's going to be looking to go any time soon, but if an opportunity comes in a couple of years, maybe that might happen.
"At the moment, I'm sure he's happy winning trophies at Celtic and now, with Rangers back in the big league as well, it makes it a lot more interesting when they are going head to head.
"If you're Arsenal in a few years, once Arsene Wenger decides to retire, if he ever does, I'm sure he'll be on their radar.
"I hope the Celtic fans don't have a go at me for that, but he's that good a manager."
Wenger committed to a new two-year contract with Arsenal over the summer, however, he has faced serious questioning of his ongoing suitability to the post and it remains to be seen how much longer a lengthy reign in north London will continue.
Rodgers, meanwhile, has Celtic pushing hard to defend their Scottish Premiership crown, while also making positive progress in the Champions League – with just seven defeats suffered in his 78 games with the Glasgow giants to date.