Robbie Savage
Robbie Savage - My career regrets and playing at Wembley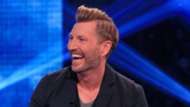 Robbie Savage will join a host of legends, including Robbie Fowler, Rio Ferdinand and Steven Gerrard by playing in the EE Wembley Cup on October 7.
The legends will be joined by a host of YouTube stars, including Spencer FC, and Goal sat down for an exclusive interview to discuss his regrets, his Wembley experiences and what would have been his perfect career.
Chelsea 8/1 to beat Arsenal 1-0
Any regrets in your career?

Savage: "There were lots, in terms of what I'd done on the field I regret getting Justin Edinburgh sent off [in the 1999 Worthington Cup Final]. The thing is, I think all my experiences, good and bad on the football field, helped me in my punditry because I've been in situations where I've gone to ground too easily, I've made a mountain out of a molehill, I've tried to get players sent off for the good of my team, wrongly. I've acted stupidly, celebrated. I've done most things other than win trophies, other than most players.
"I do regret the Justin Edinburgh scenario, I regret getting thrown out of the Wales squad for tongue-in-cheek throwing Maldini's shirt away. Which, you know, I should never have got chucked out the Wales squad. Later, I was put back in. I regret handling the Birmingham situation the way I did. Literally forcing them through and acting disgracefully in training. But, eventually, I got what I wanted so I have no regrets in that sense, getting to play for Mark Hughes, my idol.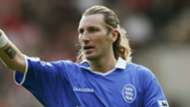 "But my relationship with Birmingham fans should be a lot better than it was, as I was their best player [laughs]. So yeah, there are a few things I regret, but it terms of my footballing career, people have a dig at me for saying I only won the Worthington Cup, but the way I look at it, because my son plays football now and the way I look at it, you can go to any football match, lower leagues, you can even go to Sunday leagues and you can see so many good players, so the way I look at it I count myself as having such a successful career with limited ability to play eleven years in the Premier League and captain Premier League clubs and play for my country.
"I believe I had an unbelievable career. Because there are so many kids who will never get the opportunities I had with more footballing ability. I don't regret for one minute that I only won one trophy because again, to play at Wembley and lift the trophy, how many players can say that? Of course, I'd like to have been in contention to win trophies every single year, but I wasn't, but I can sleep easy at night knowing I got the best out of what I had."
You played twice at Wembley, will the EE Wembley Cup be your first time playing at the new Wembley?

"Yes it is, I can't wait. I played twice with Leicester, a winner and a loser, and with Crewe. Believe it or not, I was left out of the squad. It was coming to the end of my contact, I played in every game of that season, so basically in that season this would have been my first opportunity to play at Wembley and again it was another heart break.
"My contract was coming to the end and because I wouldn't sign a new one Dario [Gradi] left me out of the semi-finals against Luton and then the final against Brentford, I wasn't even in the squad, so that was heart break. So, for me to play again at Wembley for Leicester in two major cup finals was amazing and now to visit as a pundit to the new Wembley.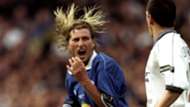 "I still love the old Wembley, to be walking out, the new Wembley is going to be so good to play in the EE Wembley Cup Final with such legends such as Rio Ferdinand, Steven Gerrard, Robbie Fowler, Emile Heskey, who I played with at Leicester, so it's going to be a fantastic day for me and it will be great for all those guys to play with a legend like me [laughs]."
If you could start your career afresh and you could pick your trajectory of the clubs you've played for, your first to last, five clubs, who would you have chosen?
"I would have started with Wrexham, probably done by apprenticeship at my home town club. Then, if I'd done well for them, you'd probably look to go to the Championship, so a club I've always liked is Leeds United, fantastic support, massive football clubs.
"If have done well for Leeds then I'd have loved to have played for Manchester United, that would have been great. Obviously, I didn't get the opportunity while I was there. Then, doing well for them, going to Real Madrid and then finally to finish it off probably go to LA Galaxy and that would have been an unbelievable career. What could have been, hey?"
Robbie Savage is taking part in the 2017 EE Wembley Cup final at Wembley Stadium connected by EE on Saturday October 7.
To view the latest episode of the Wembley Cup online series and purchase tickets for the live final click here .