Opinion
Rexona signs partnership with Chelsea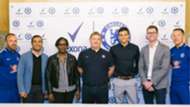 Nigeria's leading deodorant brand, Rexona has signed a partnership deal with Chelsea Football Club to celebrate and inspire Africans who are making waves on and off the field.
The new agreement is expanding on Chelsea's existing partnership with Shield in South Africa.
"The new partnership between Chelsea and pan-African brand will inspire young, ambitious Africans who understand that achieving success requires hard work, practice and absolute dedication both on and off the field," said Mark Aschmann, Regional Marketing Manager for Rexona Africa via a statement.
"Winning requires that you get up and get moving, sometimes that means getting up before sunrise or rolling up your sleeves to finish that job or even nailing that penalty kick to win the match.
"Through this partnership, Rexona wants to provide aspiring and talented footballers across Africa with the opportunity to shine and achieve their goals, in other words, Rexona's aim is to develop football at the grassroots, giving African millennials the chance to change their lives."
On their part, the reigning English champions are pleased with the pact and look forward to working with the prized outfit.
"We are delighted to welcome Rexona as our official Personal Care partner across Africa," said Chelsea commercial director, Chris Townsend.
"At Chelsea, we pride ourselves on working with some of the world's leading companies and so partnering with Africa's number one selling deodorant brand is very exciting for us."