PSG
Revealed: How Dani Alves tried to mend PSG's Neymar/Cavani divide over dinner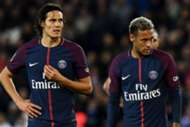 Paris Saint-Germain head coach Unai Emery has revealed that Dani Alves organised a team dinner in order to smooth over the row between Neymar and Edinson Cavani. 
The Brazilian and Uruguayan had multiple disagreements during PSG's 2-0 victory over Lyon on Sunday.
Neymar and Cavani argued over who should take a penalty, with Cavani eventually stepping up for the spot-kick only to have it saved.
The pair also appeared to disagree on who should take free-kicks from dangerous positions, with Dani Alves intervening on behalf of Neymar during the contest.
Cavani wants to take a PSG free kick, but Dani Alves has the ball and he wants his BFF Neymar to take it pic.twitter.com/JZQzg6Teu4

— Goal UK (@GoalUK) September 17, 2017
And Emery has revealed that Alves attempted to smooth things over off the field after the match, saying the Brazilian organised a dinner to clear the air. 
"I think it's a great idea," Emery told a press conference of the team meal. "I'm very happy that [Dani Alves] did that. 
"It's very important for the players to have lunch or diner all together because they can talk to each other outside the training session. I love this state of mind."
Emery also revealed that he had instituted a hierarchy of spot-kick takers, with the intention of avoiding a repeat incident. 
"There are two players able to take penalty kicks: Cavani and Neymar," Emery said. 
"There will be, from now, the first shooter and the second one. I will let them know who is going to be the first one, and the second one."
Despite PSG starting the season with eight wins from eight matches in all competitions, there have been reports of a massive rift between players in the dressing room.