MLS
Red Bulls hand McCarty's Fire a loss on emotional return to Red Bull Arena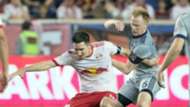 HARRISON, N.J. — Dax McCarty has done it before, and he felt he should have done it again.
The former New York Red Bulls captain had stepped up with late goals before, and when he shook free to get his head on a cross near the goal in the 89th minute against his former team, it looked like we just might see a storybook finish to an emotional Saturday night.
Timbers overcome Valeri absence
That finish wasn't meant to be though, as McCarty's header missed the mark, and the Red Bulls held on for the 2-1 victory over McCarty's Chicago Fire.
Despite the loss, the night was a cathartic one for McCarty, who was finally able to say thank you to the fans he spent six seasons playing in front of. Hundreds of fans stuck around well after the final whistle to thank McCarty, who spent an hour after the match going around the stadium and signing autographs and pose for photos (a gesture Red Bulls fans appreciated far more than Fire coach Veljko Paunovic, who seemed exasperated by the whole scene).
"I needed to do it," McCarty said. "The fans that waited for me, it was more than I even could have imagined. The people here are just good people, really loyal, and the words they said to me really mean a lot to me. I'll always remember them and obviously I just wanted to show them how much they meant to me, and stick around for anyone that was willing to stay. I would have stayed out here all night and signed autographs and took pictures if I had to. I appreciate them."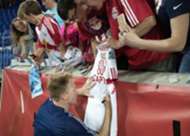 As he had been on so many nights during his time with the Red Bulls, McCarty was the best player on the Red Bull Arena field on Saturday night, but that still wasn't enough to stop his former team from beating his new team. He battled hard against his former teammates for 90 minutes, trading tackles and elbows, and on a few occasions you wondered if the Red Bulls accidentally passed him the ball because they forgot he wasn't on their team anymore.
"It was definitely strange," McCarty said of playing against the Red Bulls and visiting Red Bull Arena as an opposing player. "Very familiar. I saw a lot of great faces. Friendly faces that I'll definitely miss. Obviously the objective of coming back here was to try to get three points and we failed at that. That's disappointing. I thought we we played well enough to get three points. Came in here and created chances, that's something you don't do often here. The Red Bulls hadn't conceded any goals up to this point this year (at home) and I thought we had plenty of chances, even when it was 1-1, to up 2-1.
"It was a frustrating night overall, because you're left wanting more, but overall obviously a really emotional night being back here. I'm just upset we couldn't get three points."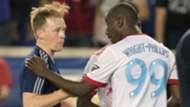 The Red Bulls were clearly happy to see McCarty, as evidenced by the line of former teammates who hugged him after the match, but they were intent to beat their former captain, as was Red Bulls coach Jesse Marsch, who was more animated than usual on the sidelines on Saturday night.
"I said earlier this week that it was important for Dax to come back here, appreciate the moments that he had here and for people to show appreciation to him, including the fans," Marsch said. "I think it was also a good game for us, a good game for them, a good game for the league. There's a lot of attention paid to it. That's the way it should be. And then Dax makes a big play for them, too."
As much as Marsch appreciated the sentimentality, neither he or his team let it distract from the goal of helping the Red Bulls improve as they try to build toward winning the team's first MLS Cup. After some tough early-season struggles, the Red Bulls are now on a three-match winning streak, and look like a team that has made a successful transition to life after McCarty. Young midfielder Tyler Adams has settled into McCarty's midfield role, and is showing all the qualities that have helped make him a key starter on the U.S. Under-20 national team. From a leadership standpoint, Sacha Kljestan, Luis Robles and Bradley Wright-Phillips have all stepped up to try and fill the void in the locker room left by McCarty's departure.
"What's most important for us, specifically, is that we have such a strong belief in the team that we have here and the group that we have here and how we do things and what we're building," Marsch said. " I think that we've already in this short season learned so much about ourselves and continue to get better. and now have to put it to the test in this week because it's going to be a very hard week, and we'll find out more about ourselves in the next week."
The Red Bulls hit the road this week to take on a very tough Sporting Kansas City side on Saturday. Meanwhile, McCarty—who celebrates his 30th birthday on Sunday—will now turn his attention to trying to help the Chicago Fire get to the level he helped the Red Bulls reach. The Fire have already shown major improvement in 2017, but winning matches like Saturday's is a step they still need to take. Having McCarty, and Bastian Schewinsteiger, and the plethora of new additions brought in this winter should help that process.
Finally being able to put the emotions of his departure from the Red Bulls behind him should also help McCarty, who admitted that the buildup to Saturday's match had created a heavy emotional burden, but it was something he knows he had to endure.
"I think I was really looking forward to it, but now that it's over it's even more of a relief just to get it over with," McCarty said. "Obviously there was a lot of hoopla surrounding the game, a lot of stuff written, a lot of chatter, but you just have to go out on the field and try to get through it. It's emotional, and obviously it's frustrating to not win.
"That's the thing I'm most upset about. You have to stick around after the game and sign all these autographs and you're really pissed off inside that you didn't win the game. That's something that will bother me, but we lost to a pretty good team and I thought the performance actually merited more than a loss. That's the most frustrating part for me."