UEFA Champions League
Real & Atletico both dread a derby - Who each team wants to avoid in Champions League semi-final draw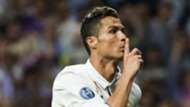 We have our final four! On Wednesday evening, Juventus eliminated Barcelona with impressive ease while Monaco's young guns outscored Borussia Dortmund in another end-to-end encounter to join Madrid giants, Real and Atletico, in the semi-finals of the 2016-17 Champions League.
Leonardo Bonucci proudly declared after his side's defensive masterclass at Camp Nou that the Bianconeri have restored their fear factor. "It's another step in our growth process and now every opponent must worry about Juventus," the Italy centre-half declared.
Messsi made to look human by Juve giants
But is the Old Lady really not afraid of anyone? Kylian Mbappe & Co. have been terrifying defences all season, while Real and Atletico's pedigree is intimidating, with the city rivals having contested two of the past three tournament deciders.
With everyone unsurprisingly talking tough, we've asked our experts to give us the inside line on what the four remaining teams are really thinking ahead of Friday's semi-final draw in Nyon...
---
ATLETICO MADRID
---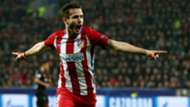 As a side bidding to make a third final in four seasons, Atletico have no reason to be afraid of any of their remaining rivals. They are the team that everybody in Europe dreads playing against. Diego Simeone's side will, thus, relish any challenge that comes their way.
However, if they had to choose a team to avoid in the semi-finals, it would be Real Madrid. Atleti have repeatedly proven in recent seasons that they have their city rivals' number in domestic competition, claiming the Copa del Rey at the Santiago Bernabeu in 2013, as well as avoiding defeat in seven of their last eight Liga derbies.
However, they have yet to get by them in Europe, losing a two-legged quarter-final tie either side of their 2014 and 2016 final losses to los Blancos, and would doubtless fear further heartbreak should they collide again this year.
Ben Hayward, La Liga correspondent
---
JUVENTUS
---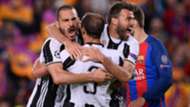 After overcoming Barca, the side that defeated them in the final in Berlin two years ago, Juve really don't fear anyone left in the tournament. Belief has been building all season long that the Old Lady is finally ready to reclaim her place at the summit of European football, after 21 long, sometimes painful, years.
While Real are champions, the Bianconeri would be confident of once again seeing off a side that they defeated in 2015, particularly as Real's defence has worsened in the interim. Juve would be more wary of Monaco, given Jardim's exciting young side would have absolutely nothing lose. As captain Gianluigi Buffon pointed out ahead of the draw for the quarter-finals, sides with such a mentality make for very dangerous opponents.
Romeo Agresti, Juventus Correspondent
---
MONACO
---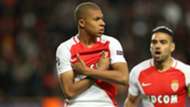 Monaco have blazed a trail across Europe this season and they, just like the enchanted watching world, are simply enjoying the ride. As a result, they won't be too fussed by what Friday's draw throws their away. They are more than happy just to be here and are ready, willing and able to take on anyone.
However, I'd suggest that Leonardo Jardim would least like to face Juventus, the best balanced team left in the tournament. Given their impressive attacking arsenal is wonderfully supported by a brilliant back-line, the Italian champions can play in more than one manner, something I'm not convinced either Madrid club are capable of doing.
Robin Bairner, Ligue 1 Correspondent
---
REAL MADRID
---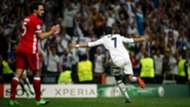 Real Madrid may have claimed their two most recent Champions League trophies at the expense of Atletico but another European derby is a distinctly unappealing prospect for the current titleholders.
Los Blancos nearly always find their incredibly stubborn neighbours a particularly tough nut to crack and they would not be in the least bit excited by the prospect of a two-legged tie with a side that is now unbeaten on their last four Liga visits to the Santiago Bernabeu.
Alberto Pinero, Real Madrid Correspondent