Transfers
Raiola: Ibrahimovic has many offers but none from AC Milan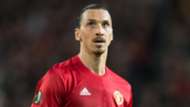 Mino Raiola says Zlatan Ibrahimovic would already be back at AC Milan if Adriano Galliani were still at the club, but says the striker has many offers to consider.
Dani Alves will help establish City as best in Manchester
Ibrahimovic is a free agent after being released by Manchester United as he continues his recovery from a cruciate ligament injury suffered in April.
Although the 35-year-old will be out for several months, he has already been linked with several clubs, including a return to Italy.
The former Inter, Juve and Milan star has numerous options, according to his agent, who says that his destination would already be sorted had Galliani stayed as Milan CEO after their takeover by Li Yonghong's Sino-Europe Sports investment group.
"Ibra is fine, he's received so many offers, from the US and beyond," Raiola told Gazzetta dello Sport.
"He's certainly not going to Napoli. Milan haven't asked me about him. With Galliani, he'd already be there."
Raiola made the comments in the wake of the dispute between his client Gianluigi Donnarumma and the Rossoneri as the 18-year-old goalkeeper told them he will not renew his contract.
Pogba demands respect for Donnarumma
Milan's new CEO, Marco Fassone, said Donnarumma and his agent have cost the club €100 million over their decision, and Raiola fired back with claims his client was "bullied".
As well as Ibrahimovic and Donnarumma, Raiola said he could also be negotiating a move for Paris Saint-Germain's Blaise Matuidi in the close-season.
"Clubs have asked me about Matuidi, like Inter and Juve. We'll see," he said.
"The Bianconeri pulled out a year ago due to political reasons. Maybe this time."