Transfers
PSV sporting director pours water on De Jong to America reports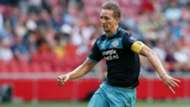 More and more media outlets in Mexico are reporting Luuk de Jong's arrival to Club America is imminent, but the sporting director of the forward's current team says there's no deal in the works.
PSV sporting director Marcel Brands said there was contact between the teams but that he isn't looking to move the Swiss-born Dutch international this winter.
"I got one phone call and said that we do not plan to sell in January. Perhaps at the end of the season, but not now," Brands told Fox Sports. "This appears to be a big thing in the media, but we have not heard an awful lot about it. I know that they made an inquiry through an intermediary and that Luuk has spoken to them once. But it is nowhere near as concrete as it is made out to be."
Club America is looking to sign at least one forward this offseason to pair with Oribe Peralta. While other targets, such as Frenchman Jeremy Menez, also have been reported as close to done deals to head to Mexico City, America manager Miguel Herrera hasn't hidden his excitement when asked about the potential of De Jong joining his club.
"He's a central forward who is good in the box. He has a good shot with his left foot, with his right, with his head. He's a guy who is good on the ball. He's a lethal player in the box," Herrera told ESPN Deportes. "He has a really good physical presence and he'd be a great partner for Oribe."
In the same interview, Herrera said America initially asked about De Jong in December and were told the player wouldn't be sold but that things had changed when the 27-year-old began to investigate Club America's history and Mexico as a country.
Club America opens the 2018 Clausura with a trip to face Queretaro. Las Aguilas also will take part in the CONCACAF Champions League this spring.