UEFA Champions League
Project Neymar could be without its Messiah in hour of need as Brazilian risks missing Madrid decider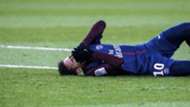 Unai Emery confirmed on Tuesday afternoon the overwhelming likelihood of Paris Saint-Germain playing against Real Madrid in next week's Champions League last 16 second-leg tie without the world's most expensive footballer.
Neymar rolled his ankle and sprained it at the tail end of PSG's 3-0 Ligue 1 win against Olympique Marseille on Sunday night and subsequent examinations by the club's medical department revealed a crack in the playmaker's fifth metatarsal. An injury to that part of the foot takes time to heal, no matter if you're worth €222 million or €2.
"It is true that today the chances of Neymar being ready are smaller than they were last Sunday," Emery said. "He is always the first one who wants to play in every match. I am patient. There is a small possibility that he will be ready to face Real. We are going to wait."
It puts PSG in a significant bind as Neymar is about to miss the most important game of the club's season – the very type of game he was hired not only to play in but to win - as Qatar seeks to claim a Champions League. PSG have won plenty of domestic French trophies without Neymar in the line-up and can be almost entirely secure in the knowledge that victory will come in Ligue 1 even if he doesn't play again this season.
Victory in Europe – from a deficit of 3-1 down – will be a far tougher ask. Although Neymar was not at his best in the first-leg defeat at Santiago Bernabeu, he would have been looked upon to provide the skill and inspiration to upset the odds in Paris. 
It might be a long time before we see Neymar back in competitive action as the World Cup begins to loom in the picture and the No. 10 desperate to put right what happened in 2014. He suffered a back injury in the quarter-finals against Colombia, meaning he played no part in the 7-1 "Mineirazo" against Germany in the semis.
Reports in Brazil overnight suggested that Neymar was ready to undergo surgery on his foot injury in order to properly recover for the Russia event but Emery insisted no decision had yet been made.
"We haven't made a decision on whether Neymar will have surgery," said Emery. "That's not true.
"This morning I had a meeting with the doctor and he explained exactly what happened on Sunday.
"He had a sprain and the results showed he had a small fracture in his fifth metatarsal. We'll see how the next few days go and we'll take a decision for him. For now we want to remain calm and see how it goes."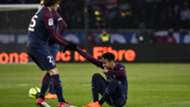 Opting to undergo surgery would probably mean a longer initial recovery time – hinting that Neymar sees his first campaign with PSG as good as over and the World Cup becoming the focus of his attention. Without surgery there is a chance that he would be back sooner but the quality of his overall recovery could be impeded and his overall risk of relapse could increase.
Maybe Emery was playing mind games with the press at Camp des Loges on Tuesday afternoon by leaving the slightest suggestion that Neymar could play next week at Parc des Princes. If not, he must be hoping against hope that his star man will be fit.
It has been a cakewalk for Neymar in his first season at PSG in terms of his output on the field. He has scored 28 goals in 30 matches so far and – at times – he has looked like a man who has stumbled upon a children's game in Ligue 1. PSG's league record bears that out.
With Neymar in the team they have played 20 league matches, winning 18. Without him they have played seven and won five. With Neymar in the side they have plundered 69 goals at an average of 3.5 per game. Without him that figure is 15 and crashes to an average of 2.1. Their win percentage with Neymar is 90. Without him it's 71. Their points-per-game average sits at 2.8 with him in the team and 2.3 when he's missing. This isn't a one-man team but one, naturally, who are better when their best player is there.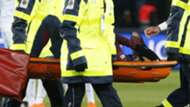 Aside from those numbers however, reports suggest that his adaptation has been difficult. He is said to struggle with the Parisian cold. He is also reported to be unhappy with the physical nature of some of the challenges in the French league even if no blame for his injury in this case should be attached to any Marseille player.
He was involved in a high-profile penalty spat with regular taker and all-time PSG record goal scorer Edinson Cavani back in the autumn which is said to have caused consternation in the dressing room.
He was booed during last month's ridiculously easy 8-0 win against Dijon when he denied Cavani the chance to break Zlatan Ibrahimovic's scoring record from the penalty spot - treatment that is said to have caused him to be quite taken aback.
He has been indulged through a direct line to club president Nasser al-Khelaifi and through his all-too-apparent willingness to sit out the odd match here and there. Earlier this month, for example, he was excused cup duty in order to satisfy himself with a two-day 26th birthday party.
It's not been all plain sailing for the former Barcelona man which makes his potential and expected absence against Madrid all the more hard to swallow. PSG have cossetted him and bent over backwards to make him happy. It may well have been worth it if he was going to be there on the field to put the two-time consecutive European champions to the sword and usher in the grand new era Qatar expects. But that kind of impact will have to wait.
Instead it will fall on the shoulders of Cavani and the brightest prospect in the football firmament in Kylian Mbappe to make the power moves this season. And if the great escape doesn't come off then Neymar and PSG will be forced to consider earlier than anticipated that, despite the Ligue 1 winners' medal and how many other domestic trinkets they pick up, the €222m man's first season with the club could end in a washout.