WC Qualification Concacaf
Pressure off as Mexico qualifies for 2018 World Cup with win over Panama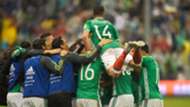 The pressure is off Mexico after Friday's 1-0 victory over Panama.
The celebrations begin on the field of the Estadio Azteca shortly after the victory as El Tri booked their ticket to Russia, becoming just the fifth team to do so after entering as the 32nd and final team to make the 2014 tournament. The players put on 2018 shirts, hugged and danced (mostly poorly, in stark contrast to what they share on their social media). Even if their place in the tournament hasn't been in doubt for months, you could see the relief.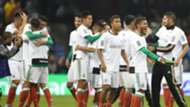 Like taking your boots off after a long day of hiking or the first cold drink after mowing the lawn on a hot day, Mexico has that feeling of relief that comes with knowing the job is done. It's time to rest. There are three more games left, but Mexico coach Juan Carlos Osorio will certainly use those to live up to his reputation for trying out different things. The results matter a bit, but the task at hand has been completed.
Friday's game wasn't a beatdown. It took time for Mexico to get through Panama's staunch five-man back line, and Gabriel Torres' miss in stoppage time nearly undid the hard work Mexico put in to get one foot on the plane to Russia.
"We came off a really difficult World Cup process previously, and I think the fact that we qualified like we've done now I think the group and the coaching staff deserves a lot of credit," goalkeeper goalkeeper Guillermo Ochoa told Univision. "It hasn't been an easy road. It's never going to be easy here in Mexico. But the people have supported us, we've done it together and we've looked to overcome everything that has come up.
#2T Oye @HirvingLozano70, ¿Cuántos minutos se necesitan para marcar un #GoLALAzo? #GritaMéxico | #PasiónyOrgullo pic.twitter.com/pe7b84flvk

— Selección Nacional (@miseleccionmx) September 2, 2017
Really, very little of the Hex has been a cakewalk. But Panama defender Adolfo Machado wasn't wrong in that portion of his pregame comments that ignited the press in Mexico. Things have changed. Easy games in this round are few and far between with Central American and Caribbean teams taking big steps in recent years.
El Tri did enough, though, both Friday and over the course of the final round of World Cup qualification. The formula always has been to win at home and draw on the road. By starting out with a win against the United States away from home and keeping the record unblemished throughout, Mexico is into Russia without too much worry.
The grandes of the region - and make no mistake that there are now three with Costa Rica's continued quality and the Americans' run of World Cup qualification that stretches back further than Mexico's - should qualify every time. But you don't have to cast your mind too far back to remember the nerves of the final matchday of qualification for 2013. The subsequent playoff gave Mexico no issues, but this year's against an Asian team rather than the top finisher in Oceania is shaping up to be a much tougher task for the CONCACAF squad that finishes fourth.
Mexico doesn't have to worry about that, of course, and even finishing first is simply a point of pride. The home game against Trinidad and Tobago and the trip to Honduras will be matches where young players can get a chance to play minutes in big-time atmospheres. Those who excel will boost their profile for Russia.
"We've learned a lot from this qualifying process, but football is always in the present. There are eight months to go. That's an advantage for Mexico, that we're already thinking about what we're going to do in the World Cup," Mexico assistant coach Luis Pompilio Paez, who led the team with Osorio suspended, said in a news conference. "This is a new stage. There are three games left, but we have to have the double responsibility of preparing to give the Mexican fans the pleasure of a great World Cup. We're going to be there and we're going to, as always, do everything possible as professionals to have a great World Cup."
That is the sole focus now for Mexico, getting to a fifth game at the world's biggest stage. There will be more qualifiers, there will be build-up friendly games. There will be the ceremony of the draw. There will be injuries and players will fall out of form. But there is no doubt now that Mexico will be at the World Cup.
Mission accomplished. Job done. Goal met. El Tri are headed to the World Cup for the seventh consecutive tournament.