African All Stars
'Premier League is tough,' admits Liverpool's Naby Keita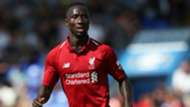 Liverpool midfielder Naby Keita has admitted that the 'Premier League is tough'.
The 23-year-old joined the Reds in the summer from Bundesliga side RB Leipzig and has made four league appearances - three from the start - helping Jurgen Klopp's men maintain a 100 percent start to the season.
Having played in France, Austria and Germany, Keita opines that playing in the English top-flight is a difficult and different challenge.
"I think it's fair to say that the Premier League is a tough league," Keita told club website.
"I'm very motivated to be playing in it – it's an attractive proposition – but I've been told by many people that a lot of overseas players come into the Premier League and they take time to integrate, depending on the circumstances.
"So playing in the Premier League can be difficult, but I am very motivated to play here, not just for myself and my teammates, but for the club.
"Everybody around me has been very supportive towards me so I am certainly giving everything I can to get settled into the team quickly."
On Saturday, Keita will hope to be restored to the starting lineup as Liverpool take on Tottenham Hotspur in their next league game at Wembley Stadium on Saturday .