Premier Cool Turf Wars: Fast Five captain Kunle Ibaru excited with surprise recognition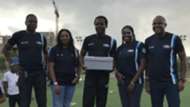 Fast Five's livewire Kunle Ibaru says he is surprised to be named Player of the Tournament in Premier Cool Turf Wars 5-a-side competition.
The captain, who also emerged the tourney's top goalscorer with 13 goals, championed Fast Five's fightback against Photo Studio in the final of the competition on Saturday.
After going down by four goals, Ibaru contributed a treble to help his side finish the tie 5-5 before they won 3-2 on penalties.
The former Saints FC player, surprised with the recognition, reveals he had tipped a 'younger, faster and better' Michael Otubu - also on the scoresheet in the final - for the award.
"Personally, I never thought I could get this award if I'm to be truthful. There's a guy on my team. He's Otubu, [who is] younger, faster and better than I am. And he won the best forward of the tournament," Ibaru told Goal.
"I expected him to do everybody proud though he also did well. It just fell on me and I'm happy to rise up to the moment."
Also, Ibaru hails his team members for the Cristiano Ronaldo-esque treatment he got.
"Well, my team deserved everything because like [Cristiano] Ronaldo when he got towards the end of his contract [at Real Madrid], he didn't dribble much. He just positioned himself for the team," he added.
"The team did the entire job and gave him the ball, which he put in the net."