Transfers
Posta Rangers reveal plans ahead of new season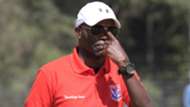 Kenyan Premier League side Posta Rangers is set to sign up to six players in the current transfer window.
The mailmen finished fourth in the 2017 season, despite losing just five matches; their main undoing being finishing numerous chances created. Head coach Sammy 'Pamzo' Omollo says he has to work on that front to ensure things change next season.
"Well, first, we want to work on our attacking and creative department. We will sign six or so players, to bolster our attack and midfield. But again we will release about six players to create space for the new ones. It is going to be a tough season and that is why we have to prepare well.
"I will have to assess the players first, before we decide on other tactical factors to help the team," Omollo told Goal.
Posta Rangers will resume their training from January 2, 2018.