Manchester United
Man Utd's £90m Pogba problem? Lampard wishes he was that valuable at 23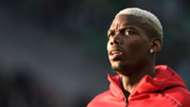 ---
COMMENT
---
When Paul Pogba's worth to Manchester United was brought into question by two former England players on national television this week, it was hard not to think that one of them at least should have known better. Frank Lampard said the Frenchman could become a "£90 million problem" for United, pairing clips of Pogba finding it hard to put his stamp on proceedings with grand statements about the club's world-record outlay last summer.
Zlatan deserved a 12-match ban
But it felt like a missed opportunity on Lampard's part to actually speak from first-hand experience of the difficulties involved when being signed for a big fee, with a huge reputation, and with a label he hadn't asked for coming as part of the bargain.
After all, Lampard himself had been in a very similar situation to Pogba back in 2001. Chelsea splashed out £11 million to sign him one week before his 23rd birthday in a move which attracted plenty of attention. His time at West Ham had been dogged by claims that he got a helping hand into the first team from his uncle, Harry Redknapp, who was the club's manager at the time.
It was criticism which stung him, especially as he also looked to follow in the footsteps of his very successful father, Frank Sr, by making his name with the Hammers. To identify between the two, some supporters would call him 'Fat Frank'. Like Pogba's £90m transfer fee, it was a label Lampard had not invited, and a video from 1996 of a West Ham fan challenging Redknapp on his nephew's worth is now YouTube gold.
"Some people forget that it was tough or they try to change history and say it wasn't like that. It was," he told The Independent some years later.
"I had the nepotism one thrown at me regularly there and as a kid I found it quite hard to deal with. Certainly that day I did. I watched it back and not only my embarrassing curtains hairstyle and my chubby face, but the whole moment was brought back."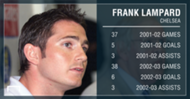 Like Pogba, Lampard had his own cross to bear and hardly hit the ground running at Chelsea. When fellow analyst Jamie Carragher slammed Pogba's return of four Premier League goals and three assists so far for United, comparing it to the volume of goals delivered by Lampard and Steven Gerrard over the course of their careers, Lampard chose not to defend Pogba despite the fact that he himself had struggled to find the net regularly after a big move at the same age.
Lampard scored just five goals and laid on three more in the 37 games he played in his first Stamford Bridge season at the age of 23, and would follow up one year on with a paltry six goals and three assists. It was in his third campaign with the Blues at the age of 25 that he would really begin to take flight as a blockbusting midfielder.
Future bleak for abject Arsenal
But rather than provide this context, Lampard claimed Pogba was both too attacking and too defensive before again turning the conversation back to his price tag. "The problem he has is that when we think of £90m we think of Gareth Bale," he said. "Who would you pay £90m or £100m for? Suarez, Ronaldo, Messi… They bring 40 to 50 goals a season and win games on their own week-in, week-out."
The £90m problem here is Lampard's, not Pogba's, and it is certainly not United's. The Red Devils clearly believe their £89.5m outlay, which could rise to £93.8m in time, was worth every penny. They wouldn't have paid it otherwise.
It is not up to Lampard or any other pundit to decide whether United will get their money's worth. He has no idea how much Pogba brings into the club every time he steps on the field, or greets a disabled youngster through the Manchester United Foundation, or simply posts on social media. It is the job of Ed Woodward and the United board to decide whether Pogba is worth the money or not.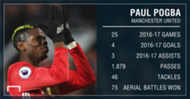 And the tendency to keep judging Pogba in the context of his transfer fee is nothing but divisive. Only a couple of weeks ago people were lauding the 23-year-old for having completed over 1,000 passes in the final third this season, more than any other Premier League player. So why is he a "£90m problem" this week just because Zlatan Ibrahimovic missed a penalty against Bournemouth?
"He's not giving the numbers, Zlatan is giving the numbers," was Lampard's rather course analysis of the difference between the two, but why would he make such a link? Nobody in 2001-02 was comparing his five goals to Jimmy-Floyd Hasselbaink's return of 23 and claiming Frank 'isn't giving the numbers' at Chelsea.
Mourinho fumes at Rostov pitch
It is right that former players should have their right to criticise without their own record being held up in mitigation against them. Gary Neville must not be judged by his spell as Valencia coach every time he questions a manager's tactics, and Carragher shouldn't have to defend his abilities as a defender for Liverpool every time he analyses Jurgen Klopp's back line. Similarly, Lampard has every right to say Pogba isn't yet the midfielder he could become and many expect him to be.
But Lampard, Carragher and presenter David Jones returned to the subject of Pogba's transfer fee 12 times in a feature lasting less than 10 minutes, and the over-riding theme was that the Frenchman's first job is to justify United's outlay. It is a capitalist fetishist who spends his time constantly worrying about what other people are spending, and the world and his wife seem to have had a go at explaining why Pogba isn't worth the money. To argue the point over and over again is lazy.
So why couldn't Lampard have used his unique insight to highlight the realities of Pogba's situation by drawing on his own personal experience? That would surely have given the viewers a far greater insight and added something new to the discussion. After all, Lampard wasn't 'giving the numbers' either at 23, but he was only an £11m problem, not a £90m one.