PSL
Player Perspective: PSL salaries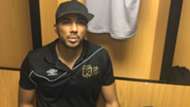 ---
PLAYER PERSPECTIVE:    SHUAIB WALTERS       Follow on Twitter
---
As my off-season is steadily reaching its end, I am starting to mentally prepare for the 2017/18 season.
My main aim is to improve on last season's achievements.
One of the goals for the season is definitely targeting the title of the MTN 8 championship, which I feel is a goal that we, as a team, can definitely achieve!
I'm also going to work a lot harder to contribute to our team's chance of winning the league as we know we have that ability.
This goal is twofold as it is a team goal and personal goal for me as I'm slowly nearing my retirement from playing football. My goal is to retire with at least one league title under my belt.
The challenge footballers don't talk about 
Talking about retirement, I read a very interesting article about a group of grannies that have started playing soccer for the many health benefits and now have their own soccer team called Tshifulanani Old Age Football Club, go and check them out!
I've been following the story on the Kaizer Chiefs player that, at the age of 22, is earning a salary of R5000 p.m. This has the South African Football Players Union outraged and Kaizer Chiefs defending the salary by saying that he is a development player.
In my opinion there should be more defined guidelines to ensure clubs avoid issues like this and come under fire. Guidelines should include the maximum age that a player can still be playing in the club's development team and the minimum salary for players who have just started playing in the league as to protect both the players and the clubs. This is a professional career and players should be paid accordingly, with a reasonable entry level salary.
Kaizer Chiefs on Bvuma's confidential salary
Now onto some Confederations Cup related news…
I have been following the tournament with interest. The game between Germany and Australia was very entertaining as the game ended with 5 goals and Germany taking the title with 3 goals. I was a bit disappointed with Germany's goalkeeper as he could have definitely done better with the goals they conceded.
What was interesting to me was that Germany had none of the 2014 players in this game. To be able to play these important games and win shows that they have a good structure for developing young players.
Ronaldo and Messi - Children of Modern Football
Another game that had me on the edge of my seat was the Mexico vs Portugal game, where Portugal could have scored 3 goals but instead conceded to finish the game with a 2-2 draw.
Let's see what happens at the tournament progresses.
Till next week!
This column is brought to you by  Lotto Sports Apparel.