Manchester City
Play-off hero Mooy tight-lipped on Man City future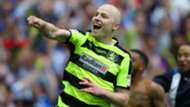 Aaron Mooy is tight-lipped on his future with Manchester City, but says that he has always dreamed of playing in the Premier League.
The Australia international spent the 2016-17 season on loan at Huddersfield Town and played a key role as the Terriers clinched promotion from the Championship, scoring in the penalty shoot-out as they defeated Reading in the play-off final.
Huddersfield heroes finish fairytale
Mooy played more than 50 games for Huddersfield in all competitions, and scored four goals as they defied expectations to secure their place in England's top flight.
The 26-year-old joined City from A-League side Melbourne City at the beginning of the season and, after an impressive campaign, he will hope he has done enough to impress Pep Guardiola.
Mooy will address his immediate future in the coming days, but said that thoughts of playing in the Premier League were in the back of his mind as he savoured Huddersfield's victory.
"I can't say anything. I have to speak to my agent and Man City," Mooy said when asked about his future at the Etihad. "I told them to not talk to me for another 24 hours or so!" 
The former St Mirren man added: "I'm not even thinking about the Premier League yet. I'm just trying to enjoy the day." 
Though he says he has not heard personally from Pep Guardiola, Mooy expressed his pride at achieving promotion with Huddersfield. He described it as "an amazing experience", and says that he will continue trying to do his best in order to progress in his career.
"I'm not a manager. I just try my best and see where it takes me," Mooy admitted. 
"Of course, I've always dreamed of playing in the Premier League."