KPL
Palos FC withdraws from National Super League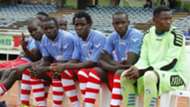 Kisumu-based Palos FC have officially withdrawn from National Super League.
The club wrote a letter to Football Kenya Federation asking to be removed from the lower league and the federation has responded by accepting the same.
In a letter to the club signed by FKF CEO Robert Muthomi dated November 10, 2017, and obtained by Goal, the federation has regretted losing the team from the league.
"We acknowledge receipt of your letter dated October 17, 2017, regarding the withdrawal of your team, Palos FC from the National Super League 2018 season owing to financial constraints.
"The withdrawal of Palos from the National Super League is surely regrettable considering the team has been among those that have helped raised the profile of the lower league owing to its organization and competition offered in the league since earning promotion to the NSL in 2016.
"We do appreciate the contribution and the role you and your team has played in the growth and development of football in the Nyanza Region and the entire country as a whole since the team's inception in 2016."
Palos were scheduled to face Administration Police this weekend but have opted out.