Tiquinho Soares
Out of nowhere: Tiquinho Soares set for Brazil audition in Champions League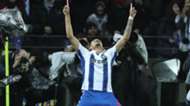 On Wednesday a handful of Brazilians will be hoping for a productive evening on a personal level, as well as victory for their team when FC Porto host Juventus in the Last 16 of the UEFA Champions League.
It could be a big night for Juventus left-back Alex Sandro, and for Porto defenders Alex Talles and Felipe, with Brazil coach Tite having sent his assistant Sylvinho to cast an eye over some of those in contention for March's World Cup qualifiers. 
But the real winner on the night may yet be Tiquinho Soares, who will be more desperate than usual to keep up his fine start to life with Porto.
The 26-year-old has hit four goals in three games since arriving from Vitoria Guimaraes last month and the injury to Manchester City's Gabriel Jesus has opened up an unexpected gap in Tite's forward-line.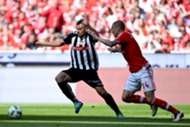 Just one month ago, Tite and his staff had likely never heard of Francisco 'Tiquinho' Soares, but Sylvinho is certainly familiar with the name by now after a meteoric rise for the man who was hitherto lost in the pack of thousands who leave a humble life at home in search of a career in the game.
"I always had to help my parents when I was young. My father was a bricklayer and I used to work with him, and I'd also help my mother selling ice lollies," Tiqinho told O Jogo.
It's been a very long road, but last month Tiquinho finally hit the big time when he joined Portuguese giants Porto, and he's been the talk of the town ever since.
He marked his debut for the club with two goals in the derby with Sporting on February 4, securing a vital 2-1 win for his new team. 
His rapid rise has drawn comparisons to one of his compatriots and fellow child of Paraiba, Hulk, who starred for Porto and was a regular Brazil international before moving on to Russia and then China.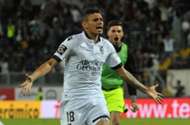 "I have heard people comparing me to Hulk, but the sertanejo spirit is always to remain humble," says Tiquinho. 
"To have an opportunity, you first have to stay faithful to who you are and for me it was no different. That is what has seen me break though the barriers and overcome the difficulties in getting to where I am now in world football."
Having begun his nomadic career with America in Natal, Tiquinho passed through seven Brazilian clubs in four years before heading to Portugal to join Nacional da Madeira – a move which saw his stuttering career finally take off.
After becoming a regular scorer for Nacional he moved on to Vitoria Guimaraes in 2016 and hit a further nine goals in 22 appearances, convincing Porto to splash out around €6 million for his services.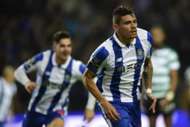 And after a career that at one stage looked to be going nowhere, Tiquinho comes into Wednesday night's clash as one of the stars of the show.
A call-up to the national team has been mooted after it was revealed there would be one very interested face in the crowd at the Dragao, despite suggestions that Sport Recife's Diego Souza may already have been selected to replace Jesus.
"Every Brazilian player wants to wear the Selecao shirt, it's every child's dream," said Tiquinho. 
"Now, I just have to think about doing my job, about helping Porto, and then hope that an opportunity presents itself one day."
That day could yet arrive sooner than Francisco das Chagas Soares dos Santos had ever dreamed.