Gor Mahia
Ottamax explains why he left Gor Mahia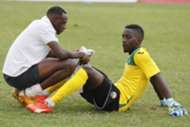 Former Gor Mahia goalkeeper trainer Mathew Ottamax has faulted coach Ze Maria for his exit.
Earlier reports had indicated that the former international was fired on disciplinary grounds, something that did not go down well with him. Ottamax says he took his job seriously and did it with whole the heart.
Is ex-Gor Mahia trainer headed to Nakumatt?
"I loved my job at Gor Mahia, always went an extra mile to achieve something with the team, my commitment was second to none. It is just that coach Ze Maria felt that maybe I was not the right man to work with, he wanted me out and as a matter of fact, it was not about any disciplinary issue," Ottamax told Goal.
"I have not received my dismissal letter yet, nor my contract termination letter, and the club still owes me a lot of money."
Ottamax is currently under probation at promoted side Nakumatt FC.