Mexico
Osorio says he didn't hear 'Fuera Osorio' chants at Mexico's send-off match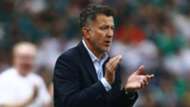 As the clock froze at 90:00 and stoppage time started, chants of "Fuera Osorio" - Osorio out - could be heard in the Estadio Azteca.
Mexico beat Scotland 1-0 in its final match before leaving the country Sunday night ahead of a friendly with Denmark in Copenhagen and the beginning of the World Cup in Russia. Rather than sending the team off with cheers after the victory, though, many in the sell-out crowd either chanted against Mexico manager Juan Carlos Osorio or simply booed the team off the field.
After the match, the Colombian said he didn't hear the shouts and reflected on the team chemistry he has in the group he's taking to the World Cup.
"Ah, I didn't realize that," Osorio said when asked what he thought about the fans asking for a coaching change. "I think the national team is able to have a great World Cup. There's a spirit of companionship, of solidarity that we're going to compete hard against any opponent. I think with the talent there is in the squad, we have chances against any opponent."
The questions didn't stop there, with Osorio also asked about his impression of Mexican fans during his time as the El Tri boss with the potential that Saturday's win was his final match in the national stadium as Mexico's coach.
"Extraordinary fans who support their team 100 per cent," he said.
While Osorio doesn't have the faith of a number of Mexican fans, he's won over his players. Giovani dos Santos ran to the sideline to celebrate the winning goal with the coach, and players consistently back the 56-year-old in spite of criticism from the press.
"We're focused on our game, on playing and that's how we're going to move forward," Raul Jimenez, who started up top for Mexico on Saturday, said after the game. "We don't have to show anything to anyone. We know we're capable."
Mexico players will spend the majority of Sunday with their families before leaving for Denmark in the night with one group routed through Paris and the other through Amsterdam. They'll reunite in Copenhagen, where they face Denmark on June 9 in the final friendly before the World Cup.