MLS
Orlando City provides Jason Kreis a chance at redemption - will he take it?
---

2017 MLS SEASON PREVIEW
---
Jason Kreis is still a young man but in MLS coaching terms, he's basically a grizzled veteran.
"Somebody told me the other day, this is my 10th season," Kreis told Goal. "That's a few more than I thought I had.
"I took over the coaching job at RSL when I was 34 so I've been going at this quite a bit of time." 
How much more time Kreis has as an MLS head coach could be largely determined by how much Orlando City can improve in 2017 – and whether the club's ownership will be patient with its head coach if the Lions don't reach the postseason for the first time in their three-year MLS history.
MORE: All you need to know about Orlando City 
Kreis was something of a boy wonder in MLS coaching circles after leading Real Salt Lake to the MLS Cup in 2009. His subsequent success in Utah led him to be named the first head coach of New York City FC.
It was there, though, where Kreis' story took a left turn. The club's expansion season of 2015, while by no means a disaster, wasn't good enough for the demanding ownership and after just one season and plenty of hype, Kreis was out of a job.
NYCFC's expansion brethren Orlando City tossed Kreis a life preserver midway through last season, appointing him head coach after firing Adrian Heath. 
Part three of Kreis' MLS journey begins in earnest this season, his first full campaign with Orlando City. One wouldn't blame Kreis for feeling like he has something to prove in 2017 after the NYCFC situation went south, but he doesn't see it that way. 
"I really don't. I don't (have something to prove)," Kries said. "Am I hungry and do I want to win every single match I'm a part of … and coach one of the best teams in the league? I absolutely do. But I don't think that way.
"For me, what happened in New York was an anomaly. I think that we were doing a job that was incomplete, so I don't view that in particular as a big failure. I view it as a job that was left half done, because as I said from the very beginning, it takes time. So i just continue forward and don't look at it that way."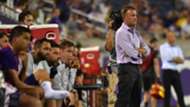 After RSL afforded Kreis time to build his "team is the star" mantra and develop a foundation, NYCFC pulled the rug out from under him after one season. It should come as little surprise then, that when asked about the most important lessons he's learned in his decade coaching, Kreis immediately mentions the value of patience.
"It's a job that takes a little more patience than most people understand and appreciate," Kreis said. "And it's very difficult for me because I'm naturally a very impatient person. So you've got to continue to work and work and work and believe in what you're doing in order to get to the objective that you want."
Will Orlando City's ownership give Kreis the patience he desires? After two seasons without making the postseason, a rabid fan base and a brand-new downtown stadium opening, the pressure is on the Lions to turn things around on the pitch.
One important way Kreis is planning on rebuilding Orlando City is with an injection of veteran leadership, something Kreis himself admitted the club was lacking as it faded down the stretch in 2016.
U.S. international Jonathan Spector and veteran midfielder Will Johnson, who played under Kreis for several seasons in Salt Lake, were added to help rectify the club's dearth of leadership.
"I'm maybe the only guy other than Kaka (on the roster) who's captained a club for a long period of time and had success being the captain of a club," Johnson told Goal.
"With that comes respect and with that also comes responsibility that when I see things, even though I've only been here for a couple of weeks, that they're addressed and that people are held accountable."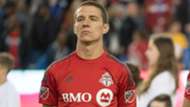 It's been five years since Kreis was last Johnson's coach, and the Canadian international sees a more refined boss than the one he left in 2012.
"I think he's evolved into a better coach," Johnson said. "The attention to detail is more than it was in Salt Lake. He's a perfectionist by nature and so no detail is left unattended to."
And as a member of the RSL team Kreis spent years building up, it makes sense Johnson also appreciates his coach's patient approach.
"He's confident in his ways, he knows how to get the best out of a group and he's patient," Johnson said. "He understands that he came into a project that is going to take a little bit of time to figure things out and turn it around, but he's confident and quietly going about his business in the way that he does."
Oscar Pareja fixated on bringing elusive MLS Cup to FC Dallas
There are still plenty of questions Kreis must address aside from the club's leadership issues. Kaka has been influential but oftentimes injured during his time in Orlando. Spector will bolster the defense but after shipping a league-worst 60 goals last season, will it be enough? And how will Orlando replace the influential Kevin Molino, who was traded to Minnesota for allocation money.
There is much work to be done in Orlando. If given enough time, though, you wouldn't bet against Kreis taking his squad to the next level.  
"So far in Orlando City we have a terrific fan base, one of the best in the league," Kreis said. "We have a terrific sponsorship sales group, one of the best in the league. We have an unbelievable ticket sales group, one of the best in the league. What we don't have yet is a team that's one of the best in the league and I think it is now upon us as staff members and players to raise our level to the level that the rest of the club and the fans have given so far."