Premier League
Optus Sport pull in record ratings as audience numbers continue to grow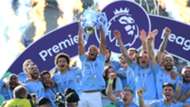 A dramatic final night of English Premier League action saw Optus Sport draw in its most ever viewers - eclipsing figures set during the 2018 World Cup.
In one of the most enthralling title races for some time, Manchester City were crowned champions after a 4-1 win over Brighton nullified Liverpool's 2-0 victory against Wolves. 
The occasion proved a winner for Optus Sport with audience numbers for the broadcaster up 100 per cent and subscriptions up 50 per cent year-on-year.
"We're thrilled with the strong growth of Optus Sport viewers this year and the fantastic feedback we've received from fans across the country," Optus' Head of TV and Content Colin Dimopoulos said.
"This season has delivered non-stop, jaw-dropping moments from the world's most popular game, and we're delighted to see a record number of fans signing up to Optus Sport ahead of the must-see Champions League final on Sunday June 2 and the launch of the spectacular FIFA Women's World Cup 2019 on Saturday June 8 (AEST).
"I'm proud of our coverage and the work of our excellent production crew and very dedicated on-air hosts and commentators, such as Mark Schwarzer, Michael Bridges, Mel McLaughlin, Ned Zelic and Richard Bayliss."
Optus Sport currently boast the Australian broadcasting rights to the Premier League, Champions League and the Europa League.
They'll also being showing every game of the 2019 Women's World Cup and are eager to put difficulties they experienced in 2018 behind them. 
"Optus is committed to taking the investment in women's sport to a new level for Australian broadcasters when the 2019 FIFA Women's World Cup gets underway in June," Dimopoulos said in March.
"We are committed to showcasing not only a high-quality production but delivering the best Women's World Cup broadcast experience for all of our customers."