Opinion
OPINION: Barcelona physician and South African lecturer on depression in soccer
Depression has become a major topic of discussion in football in recent years. The premature deaths of players like Gary Speed and Robert Enke, as well as several other professional players opening up about their experience with depression, has led to awareness about the prevalence of depression in professional sport.
Locally, Delron Buckley has talked about his depression in his book. In the article "Depression in Football" published in the Journal of Novel Physiotherapies, they made the following observations.
FifPro has played a big role in trying to understand depression and how it impacts current and former players.
Some players may suffer situation-specific depression. This is usually exasperated at times when a player is not playing, has a difficult relationship with the coach or has suffered an injury.
This type of depression is usually short-lived and once the situation of the player changes, the player might feel better.
The other type of depression is more continuous and can result in a deeper case of depression.
Depression has many causes, some internal that can relate to the genetics of the player or external factors such as stress, loss of family member, trauma, injury, responses of media or fans, overtraining and burnout etc. Players with certain genes are more likely to experience depressive episodes when faced with situational triggers.
Symptoms of depression can include sadness, decreased appetite, sleep disturbances, decreased pleasure and interest in activities (including activities that the player previously enjoyed), excessive guilt, low energy, increased fatigue and decreased concentration. The symptoms of depression can result in impaired somatic, cognitive psychomotor, social and professional functioning usually for a minimum of two weeks.
Major depression can also cause physical illness, disability and can lead to death. Somatic consequences include weight loss or gain, insomnia or hypersomnia, psychomotor agitation or retardation and fatigue or diminished energy, while also eliciting an emotional response include feeling worthless, inappropriate guilt, decreased concentration and indecision.
Age is also a factor, with depression likely to start occurring by the mid‐teens and three‐fourths by the mid‐20s. This means that there is an overlap between age for risk of onset of mental disorders and peak competitive age for professional footballers. Young players are particularly likely to experience greater pressures, expectation and judgement than other people their age.
Their research also shows that retirement can also prove a challenge that leads to depression. Often players lose the cohesion and safe environment of the dressing room, the adulation and validation of fans, and the social, medical and basic support usually given to professional players.
This means that even though they might be in their 30s, retired players are a little like people who have just stepped out into the real world and they need to adapt to their new circumstances while also still facing the judgement and scrutiny of the public. All these factors are likely to increase the risk of depression.
There is a perception that football players have fame, wealth and an easy life. The fact that people perceive their lives as easy makes it even more of a challenge for them to speak to people about them feeling sad, alone or down. Often people will tell them that they have the life everyone dreams of and that there is no reason for them to be down, or remind them of the problems the rest of the world faces.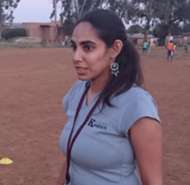 Katija Bahdur: Former Safa sports scientist
The reality of depression is that it does not discriminate based on job, fame, economic status, number of friends or anything else. Trying to convince a depressed person to just be happy or positive can actually be more counterproductive as the person ends up feeling even more alone and unlikely to seek help or comfort from anyone. And this leads to seeking alternative ways to numb the pain or find happiness.
This often takes place in finding comfort in alcohol, or women, for some, even drugs, gambling or anything else that can numb the pain or make the player feel 'normal'. Often these can have a worsening effect on the player giving them temporary relief before the empty feeling returns even worse than before, resulting in the player continuously seeking out his vice, and ending up in a dangerous cycle.
It's even worse when players are judged based on these actions and people fail to see the pain that the player is going through. Often to avoid being a burden, players might put on a smile and seem very social but when they are alone the darkness engulfs and they could be contemplating drastic measures like suicide.
As with many illnesses, there is also an individual element linked to the condition. There is no one solution fits all fix. Social and professional support can help. The stigma associated with therapy must also be eliminated. For friends, teammates, family and other people directly interacting with a player, patience is key, particularly when the player is having a deep depression.
They need to be reminded of their worth and need the love and support to help them overcome the way they feel. Non-judgement and comparing them to anyone else should be avoided. The reality is that depressed people are often already judging themselves more harshly than any outsider could. So, they need the positive energy and support.
Fans and media need to also be careful in the way they treat players. Often they only see a small percentage of a players life. They do not see the work and sacrifices players make in the days and weeks before a match and they do not see how match results impact the players. They also do not know what else the player may be going through and the unfair criticism and judgement can end up just being an additional load on a player already feeling low, or who is clinically depressed. 
While most of the discussion has been based around players, it is important to remember that these pressures and the football lifestyle also make coaches or other members of technical teams, referees and other stakeholders in the sport also susceptible. It's important that a safe space has been created for players to discuss an issue that is so important not just for the performance but for the life of players. May the next generation of players have better support structures to cope with the pressures, stresses and everything else that comes with their job.
To get more info on Delron Buckley's book which addresses his experience with depression visit www.DelronB.com or call 081 271 2242