Lobi Stars v Mamelodi Sundowns
One win in eight away Caf Champions League games: What is Sundowns doing wrong?
Mamelodi Sundowns may have turned into a formidable force on the continent but worrying is their form on the road.
On Friday, Sundowns suffered yet another defeat on the road in the Caf Champions League against Lobi Stars, meaning that they have won just once in their last eight away games in Africa.
While home form may be good enough to see Sundowns make it into the latter stages of the tournament, there comes a time where winning in their opponents' backyard is a necessity.
However, this does bring about debate or a certain level of intrigue considering that domestically, they have done a lot better on the road, and it is at home where they have struggled.
Sundowns have only won one of their six home games this season in the league, which begs the question, why?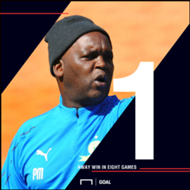 On the continent, playing away from home is a daunting task, having to deal with a hostile atmosphere, long flights, blistering hot conditions and at times, less than ideal preparations.
These are all the reasons why clubs struggle on the continent, but in Sundowns' case, there may be a few other reasons.
One such reason is that Masandawana are often too 'nice'.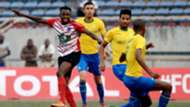 While at home they show their opponents no respect, away from home there is an air of caution.
This is understandable when the stakes are taken into account, but this is where being brave could be of the team's benefit.
Sundowns often start off matches at a blistering pace but die out as the game runs its course.
Perhaps a change in approach may just change their fortunes and add that to the fact the Brazilians are found playing with their backs to the wall.
Not that they are underdogs, but the impact of fans is another reason to consider.
Sundowns are used to playing with their own fans in the stands - that is perhaps why they do so well domestically as they enjoy massive support throughout the country.
This is in massive contrast to games played in the DR Congo or North Africa where Sundowns would be lucky to have 10 never mind 100 supporters. This has a psychological impact on the players.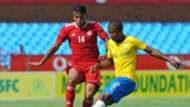 To Sundowns' advantage, they do have players such Anthony Laffor who live and thrive on playing in such atmospheres.
But this is not necessarily everyone's cup of tea, especially the younger players.
Sundowns need to have nerves of steel. Many of the biggest clubs on the continent have perfected this; that when the going gets tough, they only shift into another gear.
The Tshwane giants showed this on their run to the top in 2016 but have never been able to live up to this expectation since then.
A few seasons ago, Sundowns also registered a massive win away in the DRC against AS Vita Club, and it sent a strong message to their opponents.
That is potentially what is needed if Sundowns hope to assert their authority on the continent once again.