KPL
One African Logistics claims win in Left Foot league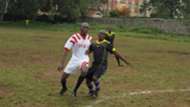 One African Logistics cruised to 2-1 win over Diamond Trust Bank in a closely fought Division Four match of Left Foot league played at Kilimani grounds over the weekend.
The game was a very physical affair with One African looking to extend their good run against the bankers in the Division. Vinnit Joshi and Vincent Ikey were the scorers for One African whilst Evans Juma managed a consolation for Diamond Trust.
In other Division Four matches, Harley's Limited lost 1-3 to Nyayo Kingdom Champions, Advert Eyez drew 2-2 with Seacom, KCB and M-Kopa Solar drew 0-0, Methodist Guest House hammered Tropical Heat 6-0, MP Shah also thrashed Ping Limited 6-1 while Vitambii Viishe beat Total Kenya 1-0.
Madaraka United maintained their perfect run in Division One after beating Bethel FC A 3-0 while Hurlingham FC lost 1-2 to Consolidated Bank. In Division Two, Davis Shirtliff FC won 2-1 against Schindler Limited, Saad Advocates beat Bethel FC B 3-0, Astral Aviation won 2-0 against Lavington United Church, Sumo Insurance managed a 1-0 win over Toyota Kenya while Disciples FC lost 1-2 to Safaricom FC.
Cosmos FC were huge winners in Division Three after hammering NIC Bank 5-0, Red Catalans beat Shani Active Gym 2-0, Oilibya FC drew 0-0 with Young Boys FC and Samba FC recovered to beat HHM 2-1.