FKF Premier League
Oktay did not have favourite Gor Mahia player, 'all of them were great boys'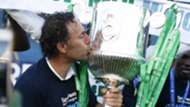 Hassan Oktay has confessed he did not have a stand-out player at Gor Mahia during his one-year stint with the Kenyan Premier League (KPL) champions.
The Cypriot coach, who signed for K'Ogalo at the start of the 2018-19 season, replacing Dylan Kerr, has exclusively told Goal he did not have a favourite player in the squad either because all of them were devoted to the success of the club.
"I had great boys, who played for Gor Mahia, and for me was every single one and as a coach, I never see one special than the other, because every player on the pitch worked very hard to take responsibilities," Oktay told Goal from his base in Britain.
"It was difficult for me to pick the favourite as all of them were fighting for the badge, they strived to make sure we get positive results, it was a great family, with a great group of boys, who wanted to learn new ideas every day and I was very happy to have been their leader."
Asked about the toughest opponent he ever faced in the KPL, "Oktay said: "For me, it is quite a similar level and sometimes, luck doesn't help, maybe KCB a little bit and also Bandari, but anyway, I could not see any teams that were ready to fight and stop Gor Mahia."
Oktay also picked the emphatic 4-2 win against Egyptian giants Zamalek in the group phase of the Caf Confederation Cup and the 1-0 victory against Petro Atletico de Luanda of Angola as the best moments he had with the club.
"Beating [Zamalek] and by a huge margin was definitely one of the moments I will always remember about Gor Mahia, we played against a very strong side but still managed to beat them 4-2, it was an incredible result, a good one for the team and the fans," Oktay continued.
"Also the win against [Petro Atletico] was memorable because it enabled us to reach the quarter-finals of the Confederation Cup. It was the first time Gor Mahia were reaching the stage in history and they did it in emphatic style, beating another very strong side."
On what he misses most about Gor Mahia, Oktay simply responded: "I miss the fans, they were incredible, they pushed us to do the best and we never disappointed them."
On his lowest moment at the club, Oktay explained: "It was when my players staged a go-slow demanding for salaries and we had a very crucial Caf match coming up, it really affected my team."
The 47-year-old tactician quit the 18-time champions for personal reasons after helping them to win the league and reach the last eight of the Caf Confederation Cup.