Asian Games
OKS prepares for possible changes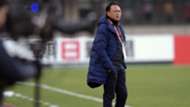 The U23 squad will assemble on July 30 and despite the heightened attention received regarding the release of players for Asian Games, it remains uncertain how many will turn up on Monday. Having previously revealed to Ong Kim Swee and his team on the availability of the player for the tournament, the worry is that there could be a u-turn made on the decision.
Football Association of Malaysia (FAM) revealed that they have requested four players from the standby list to report for training on Monday and they are Adib Zainuddin (Johor Darul Ta'zim II), Akhyar Rashid (Kedah), Syahmi Safari (Selangor) and R. Kogileswaran (Pahang).
When contacted by Goal, Ong retains his hope that the initial 24-man squad will all report for training but stressed that the additional four players is just to ensure that training can go smoothly as an entire group.
"I don't know how many will come and this decision is not because I've already known who will not turn up. This is just to ensure that we can start training as a group without having some players coming in at a later date," Ong told Goal.
As the potential trouble with the call-up remains, Malaysia were also dealt another blow when United Arab Emirates were added to their already tough Asian Games grouping after a revised draw was done earlier in the week.
In view of the new development, there might also be a change of plans with regards to the training. In the initial plan, Ong's team are supposed to fly to China for a friendly match, return to Malaysia and then play another friendly before departing to Indonesia.
"We are looking at the possibility of flying straight from China to Indonesia. This is to give us more training together instead of too many flights that can disrupt our flow," added Ong.
How this will impact the friendly against Saudi Arabia that is supposed to be played in Kuala Lumpur on August 9 remains unknown. Perhaps a new opponent will be arranged when the team reached Indonesia.