Ghana
Okrah eyes Caf CL semi-finals with Al Hilal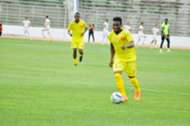 Ghanaian midfielder Augustine Okrah of Al Hilal admits he is under pressure to perform in the Caf Champions League. The Omdurman-giants have been paired with city rivals Al Merriekh in group A alongside Tunisian giants Etoile du Sahel and Ferroviaro Beira from Mozambique.
Okrah, 23, seized the headlines in Sudan last December, when he opted not to extend his contract with Merriekh and crossed carpet to Hilal in a two-year deal. He will be facing his former club in the first match of the group stage.
"It is a tough group for us. To be honest, everyone wants to see me doing magic but I'm not troubled with the presence of Merriekh," Okrah told Goal.
"I was with Merriekh for two years and now with Al Hilal so I know and understand the rivalry between the two clubs than majority of my teammates. Games between these clubs go beyond the three points at stake. A lot of the supporters can't go home when their side end up as the losing team so I'm preparing myself in all aspects of the game to please Hilal supporters," he said.
"I paid my dues for Merriekh but some of the supporters still don't understand why I joined Hilal so they see me as a traitor. They would've preferred to see me with another club outside Sudan than joining Hilal but God knows best, that's why I'm here now. I believe we will make it out of the group to the semi-finals and hopefully lift the title in the final.
"One of the major reasons why I was brought here is to help win the club to lift the Champions League title so I'm not looking back," he added.
Okrah has been in top form recently after recovering from a shoulder injury, scoring three goals and providing one assist in his last two games.