Transfers
OFFICIAL: African duo snapped up by Manisaspor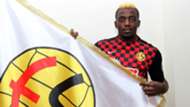 Manisaspor have announced the signing of Nigeria's Billy Ateimwen from Caykur Rizespor and Gabon's Axe Meye after they both agreed on a one-year contract each with the option of an extension.
The club president expressed his delight at capturing the duo and is confident they can quickly adapt to the club. The willingness of Atiemwen to join Taner Taskın's men also played a part in the quick wrapping up of the deal having made attempt to secure the signature of the midfielder last season.
In his reaction, Meye expressed his delight joining the Manisa 19 Mayis Stadium giants and he is certain that it is a new beginning for him.
"I am very happy to come to Manisaspor,'' he told club website.
''This is a new struggle for me and a new beginning. According to Manisaspor last season, the formation of different goals this season affected me.
"I know I came to one of the ambitious clubs in this league. I would like to thank everybody who has paid for my transfer. I want our fans to come and support us. I believe we all have a good season together. "
Atiemwen on his part is pleased with the move and ready to put up his best for the team as they push for a spot in the Turkish topflight.
"Manisaspor has had a long interest in me,'' he said. ''I really wanted to come here. But conditions did not exist. This is the transfer to you. When I came here, it was Sait's influence. He's like my father.
"The close interest of our president and the board of directors were also effective in making this choice. I will make a comeback to carry the places where Manisaspor is worthy. I will not forgive this trust in me. "