World Cup
'Nothing is coming home' - Nigerians react to Belgium win over England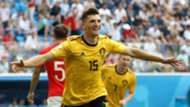 Belgium are the third best team at the 2018 Fifa World Cup after a 2-0 win over England in Saturday's third-place play-off.
The win marked the Red Devils' best finish at the World Cup finals since their fourth place position in Mexico 1986.
An early goal from Thomas Meunier and a late effort from Eden Hazard in 82nd minute was enough to dash the Three Lions' hopes of winning a medal in Russia.
And Nigerians have taken to social media to react to the encounter at the Saint Petersburg Stadium.
So much love for @hazardeden10 player of the tournament 🤗

— Peter Okoye MrP (@PeterPsquare) July 14, 2018
Sterling: "Bros, how far na"

Kompany: "I dey o but una try for this World Cup"

Sterling: "Na so we see am o"

Kompany: "But smallie, una improve" #BringRussiaHome pic.twitter.com/QJu00srcbg

— POOJA... (@PoojaMedia) July 14, 2018
Belgium can counter Nigeria's corruption...Amean just look at that 79th min counter #BELENG

— Kelly The Goat (@Yo_kellyfraim) July 14, 2018
England don chop am again!

— JJ. Omojuwa (@Omojuwa) July 14, 2018
England is coming home with ice block. #BELENG

— Ebuka Akara (@ebuka_akara) July 14, 2018
Bad thing about this England's defeat is that they will get beat by Belgium in the losers' final. Painful. #WorldCup #ENGCRO

— Odiko Godwin™⚽ 🇳🇬 (@OdikoGodwin) July 11, 2018
Hazard guides Belgium to the country's best ever finish at the World Cup after finishing 4th in 1986.

The "it's coming home" crooners ended 4th. #BringRussiaHome pic.twitter.com/rPY6MWnQ0W

— POOJA... (@PoojaMedia) July 14, 2018
Lukaku's first touch...#BELENG #WorldCup pic.twitter.com/teQTiRxN2x

— Roy Emanuel (@Roy13a) July 14, 2018
Lukaku: I will definitely score a hat trick today.
Lukaku's touch: yen yen Yen #BELENG pic.twitter.com/93lJne3Zir

— Smart kingsley (@Donkingsmart) July 14, 2018
And they kept shouting, it's coming home, little do they know that nothing is really coming home pic.twitter.com/MfdcuxAQLe

— KING Morakinyo (@morakcares) July 14, 2018
Lord Welbeck, KING OF THE BENCH :D

— Stephen E. (@Stephen_Echefu) July 14, 2018