Indian Super League
NorthEast United - Jamshedpur FC Review: Quality of game improves but still no goals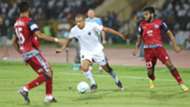 A well-known attribute of NorthEast United is that they rarely win away fixtures. Over the course of three seasons, the John Abraham co-owned side have won only four games on the road. Whatever they have achieved in the league, has been propelled by their slightly better performances at home.
On Saturday, Joao De Deus's squad had a golden opportunity to start the campaign on a winning note in front of their supporters. Almost for the entire ninety minutes, they dictated the proceedings, enjoyed lion's share of possession and had the best chances. But cohesion was not enough to make them either prolific or lucky.
The hosts lined up in a 4-4-1-1 with youngster Abdul Hakku pairing up with Jose Goncalves in central defense, while two former India internationals Nirmal Chhetri and Robert Lalthlamuana lined up as full-backs. Laldindika Ralte was given the responsibility to spray passes while Marcinho operated in hole behind Danilo.
Jamshedpur, on the other hand, started in a 4-4-2 with Souvik Chakrabarti, Anas Edathodika, Tiri and Shouvik Ghosh in the defense, while Sameehg Doutie, Mehtab Hossain, Memo and Jerry M were the midfielders. Izu Azuka and Matheus Trindade bore the responsibility of scoring goals.
From the word go, waves of NorthEast's attacks hit the travellers' defense. Seminlen Doungel, whose progress had been stalled by injuries in recent years, put up a stellar show, combining well with Lalrindika Ralte and Robert Lalthlamuana on the left. In central midfield, Marcinho troubled Mehtab as the newbies became too nervous to string together four-five regular passes.
In the first half an hour, the home team displayed guile and mobility as players swapped positions, set-pieces galore, but they didn't create many clear-cut chances. At this stage it was expected that Steve Coppell's troop will show maturity – four of the five Indians in starting line-up have been regular starters in top division for at least five years. However, they went down the long-ball route rather than trying to slow down the game and play among themselves – only to further aggravate the problem.
With time, the north-east dominance also fizzled a bit. It was much better than the drab draw on the opening day but as the match got old, the intensity of attacking moves –quite expectedly - went down.
After the break, the Tata-owned franchised looked a better side but only by a little margin, as the moves mostly revolved around Doutie being fed on the right, making some space and putting in crosses in the box.
That didn't work, because Hakku and Jose were supreme, while Tiri and Anas at the other end also impressed.
The chances, though mainly went in the way of the home franchise as Subrata Paul was tested twice in short succession- once by an on-target corner-kick and later by a grounded effort, but the Tata Football Academy product was able to keep both out.
Andre Bikey, arguably the best-known foreigner who had played under Coppell at Rangers, made his entry in the 70th minute. "People probably expect us to be crap, because nobody is talking about Jamshedpur," he had said a week back. While that was an exaggeration, it was Bikey's moment of madness and sending off that cost his team any chance of revival. In the 77th minute he hit Luis Paez with a high-boot challenge, which on another day, could have resulted in a yellow card. But you don't take chances in an ISL match when Tejas Nagvenkar has the whistle.
In the dying minutes of the match, NorthEast tried to take advantage of their numerical advantage, but to no avail. In the added minutes, Paez failed to hit the target from nine yards out as the teams had to settle for a draw.
"It's not an ideal result for us. We are not happy with the score but happy with the performance," Deus said in the post-match press conference. Lalrindika Ralte, a key personnel of his team also echoed the view. "Our coach is a perfectionist and we tried to play according to the plan. Next time, we will need the result too," he said.
For Jamshedpur, though, it was more like one point won than two points lost. The team's struggle to shift to a plan B will be a major cause of concern for Coppell, who will also have to play without suspended Bikey in the next couple of matches against ATK and Delhi Dynamos.