Cristiano Ronaldo
'No-one compares to Ronaldo' - Marcelo backs up Real Madrid star's 'greatest' claim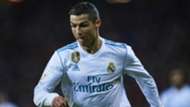 Cristiano Ronaldo has every right to call himself "the best player in history", with Marcelo saying the Real Madrid star is beyond comparison.
The Portuguese is currently celebrating a fifth Ballon d'Or triumph, with that success drawing him level with eternal rival Lionel Messi.
Ronaldo is also the current holder of the FIFA Best Award and winner of the Goal 50.
The 32-year-old continues to raise the bar when it comes to individual excellence and Real team-mate Marcelo believes he can be considered the finest performer of this or any other generation.
"I'm a fan of Ronaldo's, that's clear," the Brazilian left-back told reporters after seeing Ronaldo bag a brace in a 5-0 victory over Sevilla.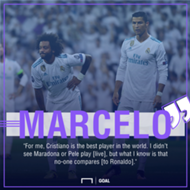 "Cristiano and Messi are different. Each one has their own history and credit. We're privileged to live in the same era as these two.
"For me, Cristiano is the best player in the world. I didn't see Maradona or Pele play [live], but what I know is that no-one compares [to Ronaldo]."
Ronaldo has looked more like his old self of late, netting six times in his last five appearances.
Real need more of the same from him over the coming weeks as they seek to defend their La Liga, Champions League and Club World Cup crowns with a mix of experienced heads and promising youngsters.
Marcelo added on the current makeup of Zinedine Zidane's squad, with the January transfer window fast approaching: "We're happy with our squad, if someone else comes in, they'll be welcomed, but I'm delighted with how the youngsters are doing.
"To be at Real Madrid, it means that you're a mature player, even if you're very young.
"Now we're thinking about the Club World Cup. After that, we'll think about the Clasico."
Real will take on Al Jazira in the Club World Cup semi-finals next Wednesday before returning to domestic action with a derby date against Barcelona on December 23.