Asian Games
No more UAE for Malaysia in Asian Games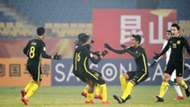 Incredibly, the Asian Games football competition had just went through another re-draw and that is the third time that a draw has been done for the competition.
But more remarkably for Malaysia, the draw sees Ong Kim Swee's side now regaining a probably chance to qualify out from the group stage.
In the second draw done last month, United Arab Emirates were dropped into Group E that already had South Korea, Kyrgyzstan, Bahrain and Malaysia.
However Iraq's withdrawl from the Under-23 competition meant that Asian Football Confederation had to perform another draw, albeit a limited one.
Having earlier parachuted Palestine into Group A and UAE into Group E to make it a 5-team group instead of the 4-team group in the other four groups, one of the those will have to take the spot left behind by Iraq in Group C.
Fortunately for Malaysia, it was UAE who was drawn to move over to Group C, hence making it only three group matches for the team to play and meant that the initial August 12 fixture against UAE is no longer valid.
It however remains to be seen if AFC will make any changes to the scheduling as now it will be a big gap between Malaysia's first match on August 10 (v Kyrgystan) and August 17 (v South Korea).
Ong's squad departed for more training and a friendly match in China in the early hours of Friday morning. It was because of the previous schedule that Ong had to cancel a friendly against Saudi Arabia in Kuala Lumpur and instead fly straight from China to Indonesia.
It is not yet known if the friendly against Saudi will be resurrected but it will all depend on if there's any revising of the schedule for the Asian Games.