Spain
No mobile phones, tiki-taka, aggressive pressing: Luis Enrique ushers in new era with Spain - and the players love it!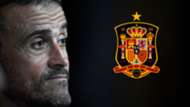 Luis Enrique may have spent just a couple of days with his first Spain squad, but the new La Roja coach has already laid down some strict rules that all players must obey.
The former Barcelona and Real Madrid star was appointed after another World Cup farce for the Spanish national team and begins his reign with the first UEFA Nations League games against England and Croatia .
With the likes of David de Gea, Sergio Ramos, Sergio Busquets and Isco present, he has a strong group to work with, but the 48-year-old has made clear that their time with the national team will be more intense than they are used to.
He has brought an end to their free afternoons, banned them from using mobile phones during meals and has even cut down on the team stopping in Madrid as they travel between host cities. Promising to run the training camps like a club, it seems serious hard work and professionalism have become the theme under Luis Enrique.
But his team of big names and big personalities have not been scared off by his high standards and the shift in attitude. In fact, they are all fully on board. Many of his players have spoken highly of him already and a grateful Sergi Roberto has labelled him "a great motivator".
El míster, a vista de pájaro pic.twitter.com/O7IOFbAGGp

— Selección Española de Fútbol (@SeFutbol) September 5, 2018
"I like him as a coach so far," Alvaro Morata told reporters. "We have had two training sessions, he asks for a lot of intensity, a lot of concentration. He seems to me a very sincere person who wants to win."
The maiden sessions – which he observed from a scaffold he had installed beside the pitch – have been convincing for a lot of players as they begin to adjust to his playing style. He demands they keep the ball moving and dominate possession while being aggressive in the press defensively, staying true to his tiki-taka approach.
The former Roma and Barcelona boss has banned the media from watching training sessions and has even had a banner installed to prevent outsiders from spying on them.
He may be demanding, but he will be no whip-wielding ogre to his squad and showed in his first meeting this week that he is relaxed and good humoured.
He was all smiles as he greeted the stars one-by-one upon their arrival and made a few jokes with them, playfully barging into Sergio Ramos, the Real Madrid captain who will no doubt continue to be crucial to the progress of the Spanish national team.
The coach himself is putting in an incredible amount of work, too. The Spanish Federation are happy with the early signs and are confident they made the right choice to replace Julen Lopetegui, who was sacked just before their World Cup campaign began.
He is living in Madrid up to five days a week, staying at the same hotel inside the training centre and he and his staff spend 15 hours working almost every day - from 8am to 11pm.
It's no surprise, then, that all have been taken in by Luis Enrique so far, but the players know it will be their turn to make an impression on him when they take on England and Croatia.