Nigeria
Nigeria U15 head for African Youth Games in Algiers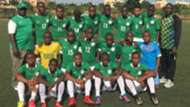 Nigeria U15 squad is expected in Algeria on Monday for the football event of the African Youth Games.
The team made up of 18 players and four officials will be hoping to defend their gold medal won at the second edition of the competition held in Botswana in 2014.
In Gaborone, the Future Eagles won four of their five games to win the championship determined through the round-robin system.
According to team administrator Adewale Adeyinka, the fixtures of this year's edition will be done when the team arrives in Algiers.
Lateef Omidiji Jnr. tops coach Danladi Nasidi's squad alongside Obinna Ajah, Oluwatobi Adeleke, Ibrahim Mohammed and Moses Aluko.
Others are Sulaimon Lawal, Bala Ezekiel, Umar Suleiman, Samson Komolafe, Ismail Ayodele, Ajir Sesugh, Johnmark Aule, Dauda Hamza, Usman Ibrahim, Ahmed Abdulhakim, Anthony Okoronkwo, Divine Nwachukwu and Chidera Ejiofor.