NPFL
Nigeria Professional Football League quality is improving, says Yusuf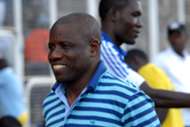 Nigeria's assistant coach Salisu Yusuf believes the quality of play in the Nigeria Professional Football League is improving every season.
The veteran tactician, who is scouting players for the home-based team ahead of the 2018 African Nations Championship qualifier in August, lauded the domestic clubs' organisation in play.
"The quality of the Nigeria Professional Football League is improving year by year," Yusuf told Goal.
"We can see now that teams are getting more organised from their warming up to the pattern of play.
"You can see team building from the back to the centre to the attacking line.
"Before it was a kick and follow the style and the person who gets the ball don't know how to build an attack with good organization. The quality is improving.
"They need to work on the pitches across the country. Most of the synthetic pitches ought to be watered thirty minutes before the game.
"So that the players can have some comfortability on the pitch when the pitches are not watered, the players are suffering the heat under their legs.
"When players play with a lot of heat under their legs, they lose a lot of concentration and won't be able to deliver the best.
"I will appeal to the LMC to ensure the synthetic pitches are watered before every match."