World Cup
Nigeria kit sells out after three million pre-orders ahead of England friendly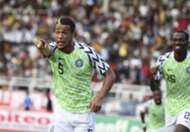 Nigeria may not be favourites to win the World Cup this summer but their new kits have won over football fans.
The official home and away strips for Russia 2018 reportedly sold out within three minutes of going on sale on Nike's online store on Friday, while people were seen queuing outside a flagship Oxford Street shop in London.
Three million shirts were said to have been pre-ordered, while non-official copies have been in huge demand in the country's capital Lagos this week.
Nike have stated that the feathered pattern that features on the kit has been inspired by the Super Eagles, a reference to the first Nigerian team to have played in a World Cup final in 1994.
Arsenal's Alex Iwobi and Leicester's Wilfred Ndidi were among those to have modeled the kit.
The Nigerian team's home and away kits were priced at £64.95 before they sold out, with other items including a jacket, training clothing and footwear also available.
However, just two pairs of boots and a gym bag were available online in the Nigeria team section as of Saturday after a glut of sales.
The kit will make its match debut at Wembley Stadium on Saturday when Nigeria face England for a warm-up friendly ahead of the World Cup.
"From its beginnings playing as a British colony to reaching the world stage in 1994, Nigeria's confidence is irresistible," Nike said.
"Now, all eyes are on the young Super Eagles to show the world what they can do."