African All Stars
Nigeria Football Federation and Aiteo sign five-year partnership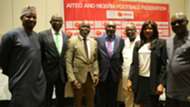 Nigeria Football Federation and Aiteo have announced a five-year partnership aiming at enhancing the growth of Nigeria Football.
At an event held on Wednesday at the Eko Hotels and Suites, it was disclosed that the financial obligation to the energy giants is worth N2.5 Billion in support to NFF and activation of the partnership agreement.
Starting on May 1, 2017, Aiteo will be responsible for paying Nigeria national team coaches, and there is an option of one-year extension. 
"Aiteo Group's overarching social responsibility objectives are to encourage a positive impact, through our activities on the society-at-large and has successfully done so for several years,'' said Aiteo's Ndiana-Abasi Matthew.
''Football brings joy to the lives of Nigerians and each moment celebrated by families in their living rooms over a goal scored or friends catching up on highlights of a well-taken free-kick by their local heroes, leaves an indelible mark with memories for a life time.''

In his remark, Amaju Pinnick who expressed his delight claiming the pact will cover a 'critical area' of the NFF's spending.
The love of the game is universal. We are proud to sponsor the biggest footballing nation on the continent @thenff #TheFutureIsAiteo @NFF pic.twitter.com/xdTqzT7CPQ

— Aiteo Group (@aiteogrp) April 26, 2017
"This is a heartwarming landmark in the history of football sponsorship in Nigeria. I am very happy that a critical area of our expenditure is being taken care of by this agreement."
"This is a long –awaited injection of funds the NFF has earnestly yearned for. We are convinced that we are turning a new chapter in Nigerian Football with this agreement in place,'' NFF's Director of Media and Communications, Ademola Olajire.
''As Aiteo Group is breaking grounds in all spheres, we share a vision of excellence to promoting the delight of football –loving Nigerians.''
In attendance at the occasion were Aiteo's Deputy Managing Director, Francis Peters, NFF 1st Vice President Seyi Akinwunmi, NFF 2nd Vice President Shehu Dikko, Mr. Tunde Akinpelu (MD, Nembe Creek Trunk Line), Mr. Bismark Rewane (MD, Financial Derivaties), Barr. Chris Green (Chairman, NFF Technical and Development Committee).
Others include Barr. A. U. Mustapha (SAN), Barr. Andrew Onyearu (SAN), Mr. Victor Okoronkwo (Senior VP, Commercial and Gas, Aiteo Eastern E&P Co. Ltd), Ms Aisha Falode (Chairman, Nigeria Women Football League), Mr. Mitchel Obi (President Africa, AIPS), Peter Rufai, Victor Ikpeba, Ademola Olajire (NFF's Director of Media and Communications), Ndiana-Abasi Matthew (Aiteo's Senior Manager, Corporate Communications), as well as other football stakeholders.