World Cup
Nigeria determined to shine in Russia – Gernot Rohr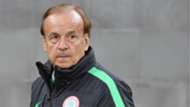 Nigeria are determined to shine at the 2018 World Cup, says team coach Gernot Rohr.
The three-time African champions reached the round of 16 in 1994, 2010 and 2014, their best appearances in the quadrennial tournament.
The west Africans will have to manoeuvre their ways past Croatia, Iceland and Argentina -  all of whom enjoy better rankings - in Group D for a chance to surpass their previous performances in the tournament.
The pairing has been tagged difficult by the former Gabon coach 'maybe the toughest', but surmountable.
"My honest assessment is that this is a very tough group, maybe the toughest at the World Cup," Rohr told Caf website.
"We are not the favourites to make it out of this group because we are the least ranked team here.
"However, we are confident, hungry and very determined to fight to qualify from this group.
"Remember we were not the favourites in our World Cup qualifying group in Africa but we made it, so we can do it again."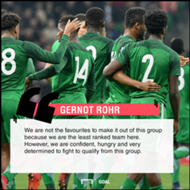 Despite his team tagged as underdogs in the showpiece, Rohr is optimistic that some of his young players can 'shine like a million stars at the tournament.'
"The favourites at every World Cup are Brazil, Germany, Argentina together with Spain, France," he continued.
"These teams have big players with huge experience, winning mentality and quality. Talking about the stars of the tournament, I hope some of the young players in my team become the stars of this World Cup and my team also shines like a million stars at the tournament."
The Super Eagles continue preparation ahead of their campaign in Russia with another test game against England at Wembley on Saturday evening.
They wrap up pre-World Cup friendlies with a tie against Czech Republic on June 6.