Transfers
Neymar transfer in limbo as La Liga rejects €222 million payment over FFP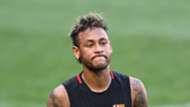 Neymar's world-record move from Barcelona to Paris Saint-Germain has entered legal limbo as La Liga has rejected the €222 million payment deposited by the player's lawyer.
The 25-year-old was expected to complete his move on Friday and push to play a part in PSG's Ligue 1 opener on Saturday against Amiens.
Bet on Neymar goals on dabblebet!
However, Neymar's lawyer Juan de Dios Crespo had the cheque to trigger his €222m release clause rejected by the Spanish league on Thursday morning.
"We can confirm Neymar legal representatives went to LaLiga to pay buyout clause and it has been rejected," La Liga said in a statement. "That's all the information we are going to give for the moment."
The decision to reject the attacker's move - which looked all-but certain after he said goodbye to Barca players and staff on Wednesday and informed the club of his decision to leave - puts the transfer in a completely unprecedented situation, although the latest developments do not come as a surprise.
---
WHY DID LA LIGA REJECT NEYMAR BID?
---
La Liga president  Javier Tebas had already said that the organisation was going to reject that payment due to concerns over Financial Fair Play (FFP).
"Even if PSG do not meet the release clause we are going to report them," Tebas told Sport on Tuesday.
Pastore offers Neymar No.10 shirt
"We have already warned the president of Paris Saint-Germain that we would do so and we see that PSG's policy has continued in the same manner.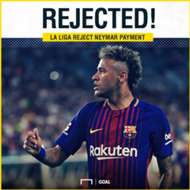 "They cannot invent some numbers where their commercial rights exceed those of Real Madrid and Barcelona. Nobody believes that."
---
IS NEYMAR'S MOVE TO PSG STILL ON
---
FIFA could be forced to wade in should La Liga continue to drag its heels and refuse to acknowledge the payment, but the governing body has no plans to intervene just yet.
"In order for an international transfer to take place, an International Transfer Certificate (ITC) is required. This is issued from the player's former association to his new one (see: Regulations on the Status and Transfer of Players Article 9. International Transfer Certificate)," a FIFA spokesperson told Goal.
"For an international transfer to take place an ITC is necessary and the various steps need to be taken to get the ITC.
"Once this has been completed the former association of the player, asks the player and his former club to confirm if his contract has expired, if it was ended early or on mutual agreement or whether there is a contractual dispute. 
"The ITC can be rejected if the contract between the player and his former club has not expired, or if there is no mutual agreement regarding its early termination.
"Generally speaking FIFA doesn't speculate on potential scenarios and their outcomes so in this respect we refer to the regulations."
Neymar's Barca legacy tarnished forever
La Liga's rejection was likely done to highlight what it perceives to be an aggressive move from a foreign club, but there is precedent for buyout clauses being triggered in Spain by foreign clubs, with Bayern Munich buying Javi Martinez from Athletic in 2012.
PSG will remain confident that the transfer can be forced through this summer, though, with Ligue 1 organisers LFP offering the Paris side their support in what could turn into a legal battle.
"The LFP is surprised and does not understand La Liga's refusal simply to accept the payment of the release clause of the player Neymar," an official statement read.
"The LFP asks La Liga to abide by the rules of FIFA and its responsibilities. The LFP supports Paris Saint-Germain and wishes Neymar to join the Ligue 1 championship.
"The LFP's legal services are in support and at the disposal of Paris Saint-Germain, so that the contract of Neymar can be approved as soon as possible."