Neymar
Neymar hobbles out of Brazil training ahead of World Cup clash with Costa Rica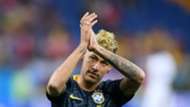 Brazil star Neymar hobbled out of training with Brazil ahead of their Group E clash with Costa Rica on Friday.
Neymar was absent from training on Monday, missing the session a day after Brazil drew 1-1 with Switzerland in their opening World Cup clash.
And just like that, Neymar is gone.

He has just hobbled off. #BRA #WorldCup @OmnisportNews https://t.co/JxJD13LPi3

— Sacha Pisani (@Sachk0) June 19, 2018
The Paris Saint-Germain forward received some tough treatment from Switzerland, being fouled 10 times during the game, his first competitive start since February.
A fractured foot kept Neymar out of the end of PSG's season but he made a goalscoring return to action with a stunning solo strike against Croatia in a friendly at Anfield, and was also on target in a 3-0 warm-up victory against Austria.
Tite's men looked set to receive a boost with Neymar taking part in Tuesday's session.
But after around 10 minutes he limped away with a member of staff to receive some treatment after looking clearly uncomfortable on the field.
Brazil media officer Vinicius Rodrigues has since stressed the issue was not associated with Neymar's foot as he highlighted the rough treatment the forward received against Switzerland.
"Neymar felt some pain in his right ankle, so that's the reason he left training. Because of the number of fouls he suffered in the last match his ankle is a little painful, but he will train normally tomorrow," he said.
"He's not been medically examined. He felt some pain and went to the physiotherapy, and tomorrow he will train normally.
"It's normal for a football player to feel some pain, especially Neymar with the number of fouls that he's suffered in the last game. Because of the number of fouls that he suffered in the last match he's felt some pain in his ankle, and that's why he's not training today.
"The intention was not for him to train fully today because it's a post-match training, an easy training for the first 11."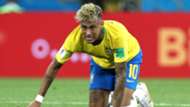 After Sunday's match, Switzerland coach Vladimir Petkovic denied that his side intentionally fouled Neymar, saying: "Most of the duels were perfectly clean and very often we had one-on-ones with Neymar...  I didn't see any bad fouls. My team played it very cleverly. We did some good things and I'm pleased."
The coach's words were backed up by Swiss star Stephan Lichtsteiner, who was worried the referee would intervene: "It's very difficult playing him. He's fast, he's technical, you need to keep up with him all the time because he's dangerous. It's a big challenge. And I was a little bit worried about the referee. Every time he fell down it was a whistle, a foul, so that was a bit of a challenge.
"You think to yourself 'don't be too aggressive' because every time he goes down it's a foul. So, because of that, I had to be a bit careful."