Maurizio Sarri
Napoli president vows to be 'reasonable' with Sarri suitors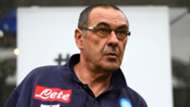 Napoli president Aurelio De Laurentiis has vowed to be "reasonable" with any clubs seeking talks with Maurizio Sarri, with the Chelsea target currently left in coaching limbo.
Despite leaving a post with the Serie A club at the end of the 2017-18 season and seeing Carlo Ancelotti appointed as his successor, Sarri remains tied to a contract in Naples.
That deal still has two years left to run and includes an €8 million (£7m/$9m) release clause.
Goal revealed recently that Chelsea were prepared to trigger that deal, but no agreement has been reached as Napoli play hardball and the Blues turn their attention elsewhere.
De Laurentiis is the man with the power to free Sarri and he claims that he will listen to offers, telling Corriere dello Sport: "If anyone comes to negotiate for him, I will be very reasonable.
"I am not a vindictive person and, I repeat, Sarri will always have my thanks."
Sarri has, however, irked those in power at Napoli with his decision to walk away from a long-term deal.
Despite leading the club agonisingly close to the Serie A title in his final season at the helm, the 59-year-old refused to commit his future to the club and expressed concerns as to the direction in which things were heading.
De Laurentiis admits that he ultimately lost patience with a highly-rated coach, saying: "I have always been very polite to him, I have always supported him.
"But at a certain point, if you have a contract with me for another two years but you start publically expressing doubts - saying things like 'I don't know if I'm staying,' 'I don't know whether the club will be able to keep their best players,' 'in life sometimes it's best to end stories while they are good,' - it sends clear messages of impatience and a lack of confidence.
"Maurizio never answered me [about whether he was staying]. If you close the door in my face, I will politely stay away so as to not disturb your work, but only up to a certain point.
"After that I have the right and the duty to protect the interests of the club and start to look elsewhere."