KPL
Nakumatt striker Boniface Mukhekhe scoops KPL Player of the Month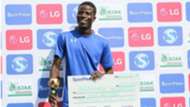 Nakumatt FC striker Boniface Mukhekhe is the KPL Player of the Month of May.
Mukhekhe, who scored three goals in the month, including a brace in a 2-0 victory against Posta Rangers, became the first player from the club to win the award.
"It is humbling, almost shocking to win this award. I had only seen people win it. I never envisaged it coming my way.
"All I did was give my best but not once did I think I would win it. I now believe all things are possible with hard work. We have managed to turn around our performance because a sponsor has given us some help and conditions are better than when we started the season. It was terrible then but we want to even get better as a team."
Mukhekhe's impressive show that month also saw him provide three assists, for the side that was struggling at the basement of the table, a display that helped them move to 12th on the log.