Mtibwa Sugar
Mtibwa Sugar beat Singida United to win the FA Cup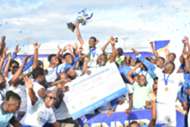 10-man Mtibwa Sugar edged past Singida United in a dramatic 3-2 victory to clinch the FA Cup securing a place in the CAF Confederation Cup next season.
Mtibwa Sugar now will return to the CAF tournament after a 15 year of absence. The last time to feature in this competition was in 2003.
It was an emotional final at the Sheikh Abeid Stadium were by the long serving Mtibwa Sugar player, Vincente Barnabas played his last match while Singida United's head coach Hans van Pluijm led the team for the very last time with his successor Hemed Morocco making the attendance.
Singida United dominated the game in the first 20 minutes before Mtibwa Sugar went ahead with a wonderful strike from their attacking midfielder Salum Kihimbwa.
The goal seemed to confuse Singida United and they went further behind through left full-back Issa Rashid from a direct corner which beat Ally Mustapha "Barthez".
The goal was a reminder of what Simba's Shiza Kichuya did to Barthez two years ago in Dar es Salaam.
Two minutes before half time, Singida United narrowed the deficit through Salum Chuku who got past three Mtibwa Sugar's defenders before beating Benedict Tinoco.
The goal was received with huge cheers as the majority of the stadium was covered by Singida United fans.
In the second half, Singida United returned strongly as they started the first half and they pushed hard for an equalizer.
Mtibwa Sugar's defensive misunderstanding led Singida United to equalize in the 64th minute through Zimbabwean midfielder Tafadzwa Kutinyu.
The game seemed to turn to Singida United's favor after Issa Rashid was sent off after being shown a second yellow card with seventeen minutes to go.
The hero of the game was man of the match Ismailly Mhesa who scored the winning goal in the 88th minute following a good counter attack move.
Singida United will now switch their attention to the Sportpesa Super Cup in Nairobi, Kenya and reports say that they will depart on Sunday.
Man of the match
Ismailly Mhesa was named man of the match because of his clinical display he showed throughout the game.
He was available in both Mtibwa Sugar's flanks and many team attacks were associated by him from the width.
Best player of the tournament
Mtibwa Sugar's Hassan Dilunga was named as best player of the tournament after playing a key role in his team in this third edition of the FA Cup.
Mtibwa Sugar : Benedict Tinoco, Kassian Ponela, Issa Rashid, Hassan Isihaka, Dickson Daud, Shabani Nditi (C), Henry Joseph, Hassan Dilunga, Salum Kihimbwa, Kelvin Sabato, Ismailly Mhesa
Singida United: Ally Mustapha, Michael Rusheshangoga, Shafiq Batambuze, Malik Antir, Kennedy Juma, Mudathir Yahaya (C), Kenny Ally, Deus Kaseke, Lubinda Mundia, Salum Chuku