José Mourinho
Mourinho's future plan leaves him open to lengthy Man Utd stay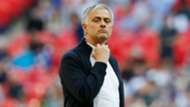 Jose Mourinho claims to be "even further" away from a move into international management as he commits himself fully to club football at Manchester United.
The 55-year-old has admitted in the past that he hopes to one day have the opportunity to take charge of the Portugal national side.
He has, however, offered no indication as to when he will be open himself up to such a role, with it merely stated that he will walk away from the day-to-day life of club coaching one he feels "tired".
Mourinho does not consider himself to a fading force at present, with his future plans hinting at a lengthy stay with United after already committing to a contract extension through to 2020.
Quizzed by GQ Magazine on whether he is any closer to feeling tired, the Red Devils boss said: "No. No! I am not close at all.
"I think being the coach of a club is my job. Because I need to play matches every week and train every day.
"I would say I am even further away from being tired now than I was a few years ago."
While focused on club matters for the foreseeable future, Mourinho is among those looking forward to international competition at World Cup 2018.
He is expecting the global elite to shine on a Russian stage this summer, with there a number of iconic figures ready to lead their respective nations in the pursuit of global glory.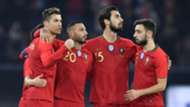 Mourinho said: "Players like [Lionel] Messi and [Cristiano] Ronaldo are so good that they can make their teams better than they are on paper. So I think Argentina and Portugal can do well.
"Brazil, because of their manager Tite, can play well tactically and defensively, but they still have that natural Brazilian talent. They will be a team to watch.
"And of the European teams, Spain looked really strong in qualifying. They have a mix of good experienced players and quality players.
"But you never know… there can always be a surprise at the World Cup."
Portugal were the surprise package at Euro 2016 as they swept to a first major title and Mourinho believes his fellow countrymen can be in the mix again two years on.
He added: "Well, Portugal did get to the semi-final again in 2006 and we also won the European Championship in 2016, so that means we are among the best teams in the world.
"Portugal is the kind of country where new talent is always coming through and in the current national team I think we have even better players than in the squad two years ago. So Portugal can do anything.
"Can we be world champions? I don't dare say that, but on our day we can beat anyone."