Manchester United
Mourinho was never right for Man Utd and hasn't done his job properly - Parker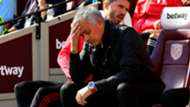 Jose Mourinho was "never right for Manchester United", says Paul Parker, with the under-fire manager accused of having "not done his job properly".
The Red Devils knew what they were getting when turning to the Portuguese tactician in the summer of 2016.
Having decided to part with Louis van Gaal, United handed the reins to a man with a reputation for delivering results using a unique approach which is not always well received.
Those at Old Trafford are now having to fight their own fires when it comes to Mourinho, as a troubled start to 2018-19 sees his position called into question, with a former defender suggesting that the current issues have been of United's own making.
Parker told Love Sport Radio: "When you're playing the game, you want to give 100 per cent and you should be trying to give 100 per cent but it may not be good enough on that day.
"If Jose is saying he's giving 100 per cent, it's not good enough for Manchester United at this moment and quite a bit before that as well. 
"Manchester United haven't evolved really since he's been there. We can talk about two trophies, two trophies which he deemed meaningless before he joined Manchester United but he absolutely adored them when he became Manchester United manager. We have to look at performances and performances from day one haven't been good enough.
"I don't think it should have allowed a club like Manchester United to go the way they are.
"The reason why they have gone the way they are is that they did go a little bit against the grain with three managers in a short space of time but what they've gone and done is, more than anything, when they went to the all-important one after [Louis van Gaal], they went to somebody just for the sake of what they believed and what everyone called him was a winner.
"When you employ Jose Mourinho, you might get someone who can maybe win you trophies but you have to put up with everything else that goes with it.
"He was never right for Manchester United and that has been proven by what has happened now. There are too many unhappy people.
"People can blame up top, they can blame Jose but at the end of the day you have to look at the person who is actually failing the ship and that is Jose Mourinho. He has not done his job properly."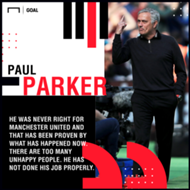 Mourinho has attempted to steer clear of the questions regarding his future, amid talk of Zinedine Zidane being lined up to take his place, with a number of former players having added their voice to those suggesting that he may be on borrowed time.
Parker is unsure whether the former Real Madrid boss would be the right choice, but he expects imminent change to be on the way.
Asked if defeat to Valencia in the Champions League on Tuesday could spell the end of Mourinho, the ex-England international added: "Winning or losing against Valencia shouldn't make any difference at all. I think everything is there in front of them already to know that this isn't going to be a long-term relationship anymore. This isn't going to be able to carry on.
"It's just ridiculous what's going on. The club is not going to be able to get itself back to where it should be in the way it's being run in this moment in time. It needs a change now.
"Is it a change like straight away going and playing the swashbuckling football? No, because that can't happen. It needs a change to go and get a bit of love back in that dressing room where the players want to come in, get in the dressing room, laugh and joke, get on the training ground and have a smile, but know when it's the right time to start working.
"[They need to know they can] get on the pitch and play with the shackles off. So that, if they make a mistake, [they know] they're not going to get cussed or persecuted for it. I think that's all it needs and the rest of it will follow, but slowly. You don't suddenly become Manchester United of old because you've suddenly changed the manager.
"Zidane, as he's been mooted everywhere, is no guarantee.
"You have to remember what he walked into when he got his first proper managerial job. It was incredible what he walked into and he sustained it at Real Madrid which is a difficult job and you have to respect him for that. But now, if he's going to come into Manchester United, he's going to be a novice and people have to remember that.
"But football doesn't allow anything like that. If you're Zinedine Zidane and you come into Manchester United - sorry, there's no time for you to get your tracksuit on, you've got to go out and win your first game."