Transfers
Mourinho confirms Alexis Sanchez transfer 'so close' but warns it could fall apart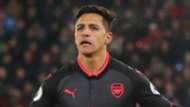 Jose Mourinho has revealed Manchester United's £35 million swap deal for Alexis Sanchez is "so close" to completion, while Arsenal boss Arsene Wenger admits it will come down to the fate of Henrikh Mkhitaryan.
Sanchez has been reportedly seeking an exit from the Gunners since the summer, when he seemed close to securing a move to Manchester City.
However, that move fell through on deadline day and,  while it was revived for a time in January , City have since broken off their pursuit as Sanchez has reportedly been offered more lucrative terms by rivals United.
Following the Red Devils' 1-0 win over Burnley, Mourinho declared the transfer for the Chile international imminent but admitted that it could still fall apart at this late stage.
"Expect soon or never," Mourinho said. "I think it's so close, so close. So close that if it doesn't happen, it's not going to happen. So I am positive.
"I know that my people are doing absolutely everything they can - the owners with the green light and Mr [Ed] Woodward working hard.
"I think everybody is giving everything they can and I think we're going to be successful."
Part of the sticking point in the deal has been rumoured to be whether United playmaker Henrikh Mkhitaryan would end up at Arsenal after falling out of Mourinho's plans.
And Wenger confirmed that following the Gunners 4-1 win over Crystal Palace on Saturday, declaring the transfer is dependent on the Armenian arriving at the Emirates.
"Sanchez will only happen if Mkhitaryan comes here, that will be decided in the next 48 hours," Wenger told reporters. "It is a possibility."
"I didn't take [Sanchez] because of this question of him moving to Manchester United. You cannot drive up north and as well play football.
"I expect it to happen, but I can't announce it."
British media outlets are reporting that the deal is complete except for the club confirmation , with medicals to take place over the weekend.
Mkhitaryan was not involved against Burnley and has not seen action for the Red Devils since January 5.
Likewise, Sanchez last featured for the Gunners in the first leg of the Carabao Cup semi-final against Chelsea, coming on for the last 24 minutes as a substitute in a scoreless draw.
Wenger played coy when asked about Arsenal's €50 million (£44m/$61m) bid for Borussia Dortmund forward Pierre-Emerick Aubameyang,  insisting "nothing is happening" at the moment .
The Frenchman was criticised by Dortmund this week for complimenting the Gunners target amid growing expectations that they will sign the Gabon international.
Arsenal have seen multiple exits in January, with Theo Walcott and Francis Coquelin departing for Everton and Valencia respectively.