Transfers
Mosimane confirms Sundowns' interest in Cape Town City captain Manyama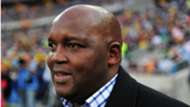 Mamelodi Sundowns coach Pitso Mosimane and Cape Town City captain Lebogang Manyama were named the Coach and Player of the Month for February on Wednesday afternoon.
Manyama has been instrumental in Ciy's rise up the Premier Soccer League (PSL) table, forming a deadly partnership with teammate Aubrey Ngoma.
However, the Citizens may be in for a tussle over the 26-year-old's services if Sundowns' coach Mosimane has his way.
When quizzed if he would be interested in signing Manyama, the 52-year-old did not beat around the bush as he expressed his desire to sign the star forward.
"Why not? He's a good football player," Mosimane told the media.
"I have a history with Lebo (Manyama) that maybe you don't know about. I played a role for Lebo to play in the PSL. Maybe he never thought he would play in the PSL and I told him he had to."
"I spoke to Ajax' and through his agent' Maimane Phiri' I put my weight on [then-Ajax chairman] John Comitis and said' 'have a look at this boy' I think he's got something', and the rest is history – he's here winning all these things.
"So, I know him very well. It would be nice to have him."
Despite Mosimane's interest in the player, he has admitted that Manyama's capture would not be easy due to his lucrative price tag.
"But he belongs to another club. And you know what happens when Sundowns want a player – it costs R10 million," Mosimane said.
"It costs the same as what you win for the PSL title. It took us two years to sign 'Vila' (Sibusiso Vilakazi). I don't know if I want to go through that again, but it's not up to me. Both clubs must speak. And (City coach) Eric Tinkler would never be happy to lose his most important player," Mosimane added.
"John Comitis would never be happy to accept losing a player who just won him the Telkom Cup, but I don't know' we'll see. We'd like to have him – why not? He scores goals and he's a Sundowns player. He plays the way we want to play," Mosimane concluded.